GUEST POST by Josh Bray. Read about more about Angry Joe HERE.
In the arena of online games coverage, it is not uncommon for people to explore multiple areas of income to sustain themselves. With things such as Twitch subscriptions, Patreon, and promotional partnerships with publishers and developers, the ways creative people can make a buck from their work is as varied as the internet that delivers their content. However, with all the new ways to raise money, some people have not forgotten tried and true methods such as raffles.
Raffles have been used throughout history as a way to fund organizational needs. They can be viewed as a type of lottery or gambling, and some states in the U.S. have put strict regulations on raffles to ensure that they are run properly and for good causes.
One such state is Texas, when on January 1, 1990, The Charitable Raffle Enabling Act was enacted. The aim of this act is to keep raffles to only two per year, and it restricts them to only charitable organizations.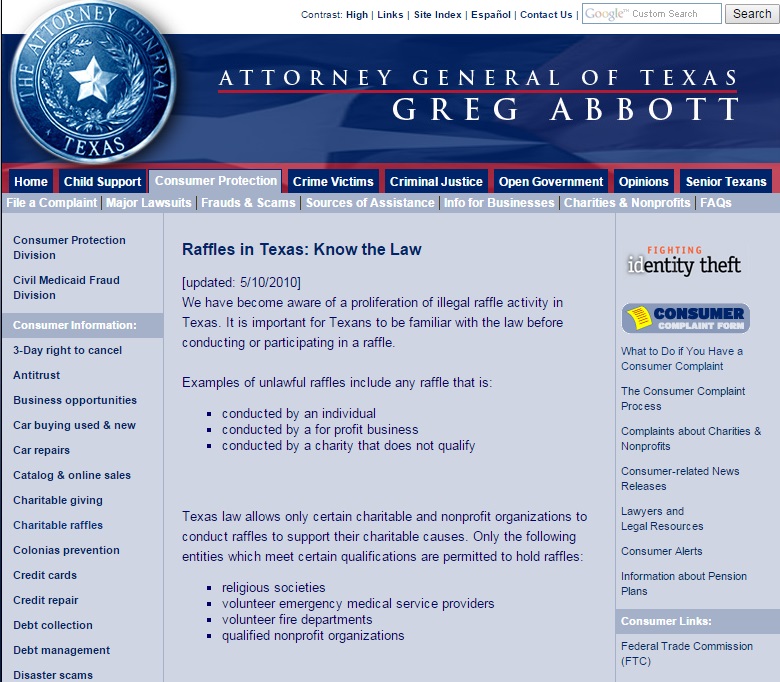 More info on The Charitable Raffle Enabling Act can be found here as well as see the full text of the law here:
Mentioning Texas State law is not an arbitrarily selected case as you can likely tell from the headline. As reported by William Usher here, AngryJoe has run a potentially unauthorized raffle to raise money in 2013. You likely know the Austin, TX based web personality from his reviews and other videos on YouTube, and from the Angry Joe Army gaming community. Joe and his circle of friends in Texas have worked to grow the income generated from this venture in many creative ways. One such way was a raffle for a PS4 held in November 2013, the details of which can be found here (backup).
In this raffle, members of the Angry Joe Army gaming community were able to get a chance at a PS4 for a $5 ticket, and "all funds received from [the] contest event [were to be] put 100% into the community – to send [participants] out to competitive events fully paid for, to offer the money back in prize tournaments for the various games we play and to keep the community strong and healthy."
On the raffle page itself you can still see evidence of when Angry Joe decided to cut the raffle off early, stating he had ". . . no idea that it would be this successful or that this many people would want to join in. It's the first time we ever ran any contest like this and we've learned much from it." The raffle winner was supposed to be selected on November 21, but they ended it early on November 18 due to this reason. While being poorly organized is one issue, being negligent of the law is another. I do hope they have since learned their lesson.
What gets more interesting in this particular case is where two of Angry Joe's right hand men work, Angry Joe's administration team and AJ Army "Council" members Chris "Tons0Fun" Carley and Dustin "SgtRoss" Ross. Both happen to live in Austin, TX and coincidently both work in the gambling/casino industry. According to their Linkedin profiles, both presently work at Multimedia Games, Inc. (NASDAQ: MGAM) as a QA analyst and Test Technician respectively:
Multimedia Games, Inc. ". . . is a leading supplier of interactive systems, electronic games, and player terminals for the Native American gaming market, and the growing racino, charity bingo and video lottery markets," which would seem to put these two gentlemen in a bad spot if found to be running raffles deemed illegal gambling under the law.
(Linkedin profiles : https://www.linkedin.com/profile/view?id=39808987&authType=NAME_SEARCH&authToken=w2or&locale=en_US&srchid=839309651417567672860&srchindex=8&srchtotal=35&trk=vsrp_people_res_name&trkInfo=VSRPsearchId%3A839309651417567672860%2CVSRPtargetId%3A39808987%2CVSRPcmpt%3Aprimary [Tons0Fun] and https://www.linkedin.com/profile/view?id=287416546&authType=NAME_SEARCH&authToken=Qeus&locale=en_US&srchid=839309651417567862458&srchindex=1&srchtotal=1&trk=vsrp_people_res_name&trkInfo=VSRPsearchId%3A839309651417567862458%2CVSRPtargetId%3A287416546%2CVSRPcmpt%3Aprimary [SgtRoss])
It is not my intent to imply direct, premeditated wrong doing in this case. Instead, my goal is to illustrate how careful you need to be when fundraising for your business, or organization. In the case of Angry Joe's raffles, under the definition of the law, one could be subjecting his/herself to fines and/or jail time.
The lesson in hindsight being always research your decisions when it comes to your business. A simple search for "Texas Laws on Raffles" brought me to the Texas Attorney General's site detailing their restrictions on raffles. A little due diligence beforehand can save you a load of headaches and possible legal issues. A mistake can be written off as a mistake, and lesson learned. A pattern of poor choices will start to alienate your audience and make your business look bad.
Questionable raffles are not the only thing that has landed AngryJoe in the center of scrutiny by fans and former viewers of his content. There have been complaints surrounding the amount of promotional content being made by AngryJoe, as well as issues with fully disclosing these connections at the time he publishes his content.
Recording promotional content, content where one is paid for their coverage, is not an uncommon or necessarily bad thing. With a personality people trust, and upfront plain disclosure, paid promotional content is a great way for companies to connect directly to an audience in my view. Issues arises when content creators are not putting prominent disclaimers in these promotional pieces.
Or, as in the case with AngryJoe, having trouble actually disclosing this information in the first place at the time of publication. In fact the FTC has regulations and guidelines regarding just this issue:
This lack of disclosure on paid promotional videos is not intentional I believe. Far from it, as Joe himself states "Honestly I've been pretty bad with remembering to label my videos with the disclaimer, originally when these opportunities came I didnt think many of us even knew about the FTC and their guidelines. Ive been just one dude on youtube trying to do the work of several trying to keep up with and compete with IGN and Gamespot day in and day out on YT pretty much myself (1-man operation) I hadn't caught up with it. And I should have been better about it. Sorry."(Source)
Since then he has gone back and put this lazy boilerplate disclaimer in older videos: "This is a promotional video for X, I was compensated for my time and effort. In any/all promo material I agree to [LetsPlay's or 1st Impressions only], I ensure I have full rights contractually to give my impressions and opinions without restriction, influence or censorship. – AngryJoe
It is great that he realizes his mistakes and is sorry for them, yet he displayed more ignorance of the career he chosen to stake his livelihood on. That comment regarding disclaimers was made one month ago, yet AngryJoe has been making video content since at least 2009. The one man operation statement is a bit of a misnomer as well, having a whole "field command" for his "army" which is listed here.
AngryJoe has been going to E3 for years. He has colleagues and a network of people made of content producers, games development and publisher personnel, and PR in the industry. I will accept his answer of ignorance on disclaimers for paid promotional, but will lay down the allegation he is a very poor business person for not even thinking to look up or ask about the legality of paid promotional content disclosure.
To me it is a little shocking that he has produced content for 5 years and never thought of the FTC or thought to question how he should approach paid promotions. The FTC had recently clarified their disclosure rules to be more clear, but these regulations had been there nonetheless. This is not something he should have been looking into after producing content for so long.
As a sound business owner he should have asked around, or searched, for ways to approach these from the first paid promotional offer he took. Not months after the fact and over a dozen promotional videos later when someone on reddit points it out to you. It is not the job of random people on the internet to do your due diligence. It is up to YOU as the business operator.
Poor decision making can tarnish your brand in the eyes of your fans and potential investors. As seen by the fracturing of support in his community, things like these can hurt your image. Even if being shady in your dealings is not the pre motivated intent, the implication can still wreck your brand image. Learn from AngryJoe. Don't be so ignorant of your business that you border on the illegal.