Well, I can safely say I never thought I'd be making a post about a YouTube personality pleasuring themselves on stream, but that's what it's come to for my life. His name is Darksydephil and he's apparently been a running joke among the YouTube community for quite some time. I say apparently because I don't really keep up with YouTube dynamics that much and I certainly don't follow the gaming sector personalities with any sort of dedication. I kind of just watch my vids here and there then get out. But hey, that's just me.
Someone described DSP to me thusly…
He is the joke of the let's player community. He's been called out by some of the biggest players on YouTube, but is very full of himself. DSP considers himself the original gangster of Let's Plays even though he's long since been passed by people that he now dislikes. All in all he's a very petty person that is bitter that he had the chance at YouTube fame but missed it because he is so lazy.
The usual suspects are having a field day…
https://twitter.com/MisterMetokur/status/726887560484540416
Not that this is anything new for Phil, but at least it's usually his gaming skill that's the butt of the joke and not his chicken choking habits…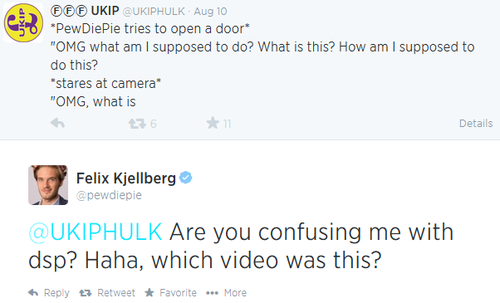 More info can be found here and here, if you want to catch up on this guy's career. Personally, I would just rather watch this video and laugh, but some light reading afterwards always helps the mind calm down after a particularly strenuous session on video watching. Or, so I've heard.
UPDATE: DSP responds…
LOL I've made like 40k vids on YouTube, today was the most hilarious one, and it certainly wasn't intentional. Oops. Stupid cam! @KEEMSTAR

— DSP The Unstoppable (@TheyCallMeDSP) May 1, 2016