Last night, news broke that Attorney General Jeff Sessions met with the Russian Ambassador to the United States, Sergey Kislyak, while he was still a senator. One of these meetings took place at the GOP convention, where Amb. Kislyak was among a group of several other ambassadors when he met with then-Senator Sessions. The other was in September, in Sessions's senatorial office, according to a Wall Street Journal report…
…Mr. Sessions spoke with the Russian ambassador to the U.S., Sergei Kislyak, while the Republican National Convention was under way in Cleveland last summer, according to his spokeswoman, Sarah Flores. He also spoke with Mr. Kislyak on another occasion last year, in a meeting in his Senate office, she said, clarifying that the meeting was in person and not on the phone as she had initially said.
The reason this is being blown-up as a major issue by Democrats is because at his confirmation hearing for the attorney general slot, Sessions said that he had never spoken to the Russians in his role as a member of the Trump campaign. The answer is being called a lie by some, an omission by others. Mr. Sessions himself is calling the Democrat response (some Dems are calling for him to resign) a misrepresentation of what he said at the hearing.
You can watch his answer here.
There's two takeaways on this for me. One, is that the Russia angle will never be dropped by the media or the Democrats. Expect this angle to be pushed for as long as President Trump is in office. I believe this was likely a setup from the start targeting Sessions (another Democrat, Senator Patrick Leahy, asked Sessions about Russia in a written question). It was probably fed to hostile media and Democrat Party members by rogue intelligence agency members and/or ex-Obama administration flacks.
The other thing that stands out is the sheer dishonesty on the part of Democrats. Look at Senator Claire McCaskill this morning. She was also on the Senate Armed Services Committee, which is the same committee Jeff Sessions was on. Mr. Sessions has claimed to have met with Amb. Kislyak as a result of his duties there.
Sen. McCaskill ridiculed that on Twitter this morning…
I've been on the Armed Services Com for 10 years.No call or meeting w/Russian ambassador. Ever. Ambassadors call members of Foreign Rel Com.

— Claire McCaskill (@clairecmc) March 2, 2017
There's only one problem with what she said. It's completely untrue.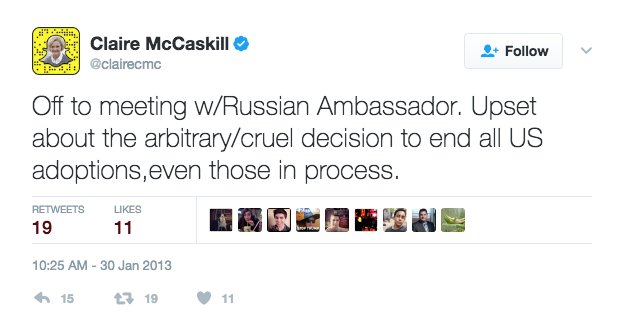 So, we have a United States Senator attempting to smear a former United States Senator on Twitter in order to score some cheap political points. I suppose that bit is nothing new, but the blatant lying bit is what really jumps out a me. At least go back and delete some of your old tweets if you're going to spout falsehoods like this one. It didn't even take a news report or some old interview from a television appearance.
Claire McCaskill's own Twitter account hung her out to dry.