I do have a Facebook page, which you can go here to like. But ever since I got into Twitter heavily at the beginning of GamerGate, I haven't spent much time on the platform. The only thing is, people like me are in the minority, as Facebook is by far and away the biggest social media company in the entire world.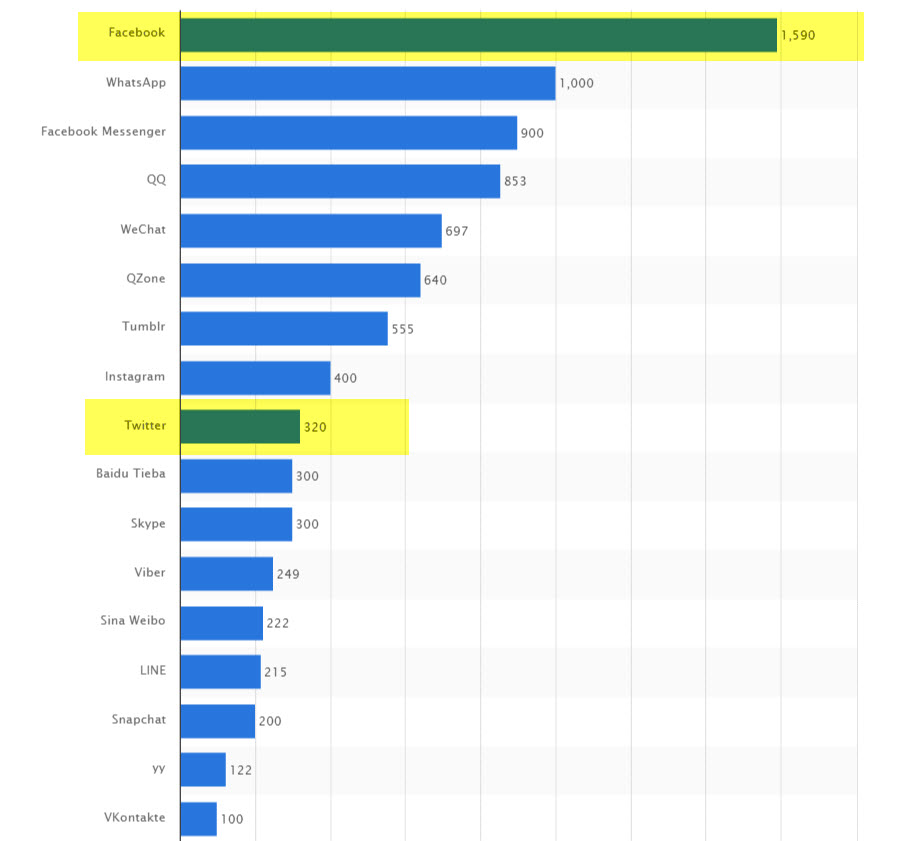 I've mentioned this before, but even Instagram and Tumblr have more users than Twitter. That's not a good sign. About the only thing Twitter has going for it is their hardcore users, like me, who spend all day on the site. I don't have the numbers handy, but I would wager a guess that the Twitter 'cores are probably more die hard than the 'cores of any other service. Still, that's not translating into profits…
The company added 5 million users in the first quarter, but it wasn't enough to ease investors' concerns about its ability to make money.

For the first three months of the year, Twitter brought in $595 million in revenue, while investors were expecting $608 million. So far this year, Twitter (TWTR, Tech30) shares are down more than 25% because of continued concerns about user growth. The company has seen its sales growth slow down over the past year as well — and the company cut its revenue forecast for the second quarter by more than $67 million.

Even so, Twitter execs were bullish about the future. On a call with investors, CEO Jack Dorsey reemphasized the need to make it simple for people to understand why they should use Twitter, and argued that the company had the right products and services to do so.

"We think the easiest way to get what Twitter is, is to show a live event.," Dorsey said. "We've been doing live for 10 years." The comment was also a slight dig at Facebook, which only recently jumped into the live-streaming medium with an abundance of enthusiasm.

Sales
First quarter 2015: $436 million
Fourth quarter 2015: $710 million
First quarter 2016: $595 million

Twitter blamed its disappointing revenue numbers on the fact that brand marketers didn't "increase spend[ing] as quickly as expected." But the company said it expects this story to turn around because of a "strong product roadmap," particularly its video ad products.

Live-streaming videos and Twitter's recent deal with the NFL will "show people who don't already use Twitter that our service is the destination for live events and the conversations around them."
All I know is, Jack Dorsey hasn't done much to turn this ship around. Even though I've been a big critic of his reign, I would still say you'd have to give him another year or so to see what he can do. But my long-held belief has been that this company is headed for a sale eventually. We don't know who the buyer will be, of course. But if I was Jack, my main goal would be to bring the company up a little bit so I could cash out with a bigger take when that sale happens in the future.
It could even be Facebook doing the bidding, since they are absolutely killing it right now.
Tech giant Facebook crushed analyst estimates when it reported first-quarter results on Wednesday.

The company reported adjusted first quarter earnings of 77 cents per share on revenue of about $5.38 billion. Analysts had expected Facebook to report earnings of about 62 cents per share on $5.26 billion in revenue, according to a consensus estimate from Thomson Reuters.

In fact, Facebook's earnings per share figure was 10 percent better than the highest estimate of 41 Wall Street analysts.
In fact, they're taking ideas that Twitter helped to pioneer and making them that much better.
Twitter's response last quarter, which it reiterated constantly in its earnings call today, is that its focus is on live events. The company repeatedly touted the power of its live-streaming app, Periscope, and the value of video advertising around those events. But it is no longer alone in live — after years of false starts, Facebook has invested heavily in live video over the past eight months.

In some cases, Facebook simply copied successful aspects of Periscope. But it has also been savvy in diverting the attention of celebrities and the media from Twitter, offering them cash to participate and a larger audience for their videos. (Facebook videos also don't disappear after 24 hours, as on Periscope — a crucial differentiator for publishers and individuals who are hoping to reach the biggest possible audience.) And Facebook boldly put video front and center in its flagship app, with frequent prompts for users to try live video. Twitter, by contrast, keeps Periscope as a separate brand, and has moved relatively slowly in integrating it with the main app. (It's a year later, and you still can't start a live broadcast from inside the Twitter app.)

Asked about Facebook today, Dorsey was casually dismissive. "We've been doing live for 10 years, and we believe we have a leadership potential in it" — Dorsey said, before catching himself. "A leadership position in it." The slip was telling. When it acquired Periscope, Twitter really did have a leadership position in live video. But Facebook moved faster, and with characteristic aggression, and now it threatens to leave Twitter's efforts around video permanently sidelined. Today Periscope still has potential, but it's increasingly hard to argue that it's the leader in either audience or product experience.
Some people might call this a shameless theft and I guess it sort of it. That's how it goes in business, though. Twitter got caught slipping and now they're in danger of losing out on this live video market in a big way. Personally, I've never understood the need to have Periscope be it's own app. Or, if you were going to have it be its own thing, at least you could have some sort of integration with the main Twitter app so you could broadcast from there. Then again, I do pretty much all of my live stuff on YouTube, and it's more planned out than these sorts of broadcasts, so perhaps I'm not part of the target market in the first place.
Hopefully Mr. Dorsey can keep things going at a somewhat acceptable level before some bigger company swoops in and buys it, because despite all its faults and my issues with them, I still love Twitter. I've said it before, but I'm really hoping the new owner ends up being Google and not Facebook. I've also heard rumors about SoftBank or some other foreign company coming in to scoop it up. Time will tell, but more earnings calls like yesterday are only going to drive down that eventual sale price.