Report after report is coming out about the rising profile of Jared Kushner within the Trump administration. Those items happen to coincide with tales about the diminishing influence of Steve Bannon, the former Chairman of Breitbart News who is one of the only people inside the White House who is actually committed to an America First policy agenda. In fact, New York Magazine is reporting that Bannon advised against the recent missile strike on the Assad regime in Syria…only to lose out to Kushner's globalist cabal.
Two sources close to Bannon told me the former Breitbart executive chairman argued against the strike — not because of its questionable constitutionality, but on the grounds that it doesn't advance Trump's America First doctrine. "Steve doesn't think we belong there," one Bannon ally told me. Bannon's position lost out to those inside the White House, including Jared Kushner, who argued Trump needed to punish the Assad regime…

On a board in his West Wing office, Bannon keeps a list of promises Trump made to populist voters. Kushner, whose portfolio has ballooned in recent weeks, seems much less interested in keeping those promises.
You don't have to be a rocket scientist to see that Mr. Ivanka Trump doesn't give a shit about the promises President Trump made to the American people on the campaign trail. He's far more concerned with impressing the media elite and his financier friends back in New York City. Just look at the people defending this clown and you can understand just what is happening. The common man is losing out to monied interests and Kushner is the main one responsible for that turn of events.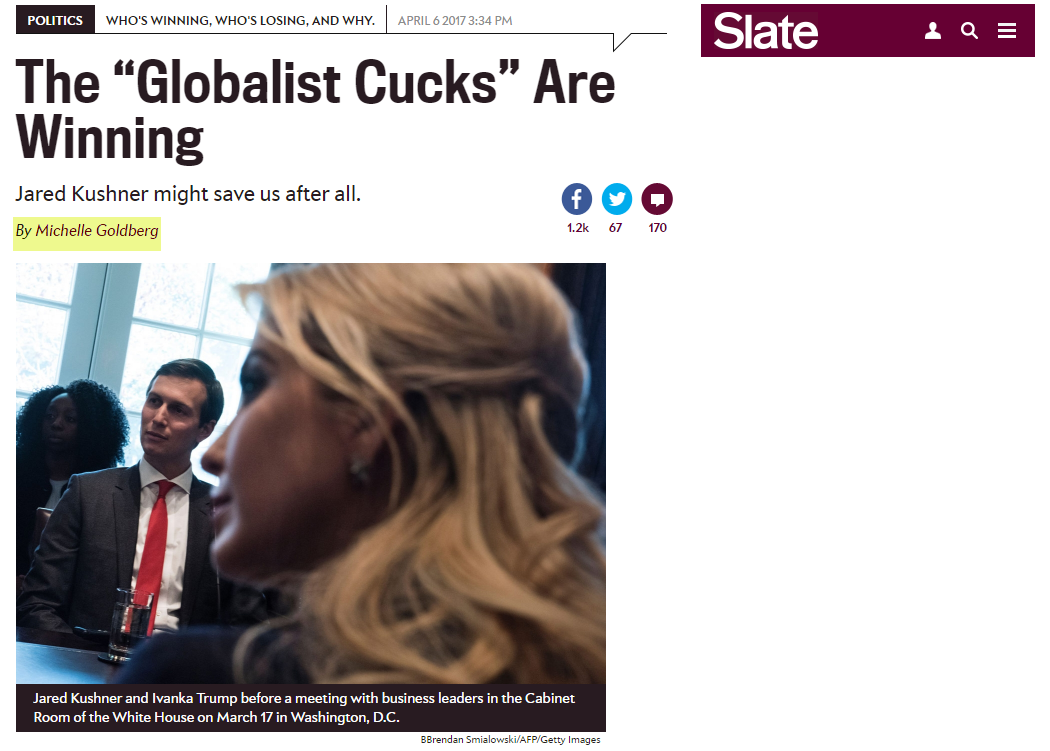 Encouraging: The national security decision-making process–agencies coordinated, secrecy kept, action explained–seems to be working.

— Bill Kristol (@BillKristol) April 7, 2017
A rabid progressive feminist and a bloodthirsty neocon are openly celebrating the potential demise of the America First Doctrine. Pro-Trump Twitter is trying to help make sure that touchdown dance ends up being premature. As a response to this possible betrayal orchestrated by Kushner and his allies, a hashtag is rapidly sweeping the service.
Bannon is /ourguy/. But how much longer will he be around? #FireKushner pic.twitter.com/4bIS5Zjpbd

— Ethan Ralph (@TheRalphRetort) April 7, 2017
https://twitter.com/bakedalaska/status/850476842108698624
No one voted for Kushner. Indeed, many of us voted against people like Kushner having power.

— Richard ☃️ Spencer (@RichardBSpencer) April 7, 2017
https://twitter.com/sidgarside/status/850476974418120704
https://twitter.com/SouthLoneStar/status/850482082681847808
https://twitter.com/CassandraRules/status/850476996756987908
https://twitter.com/jbro_1776/status/850466622112399361
https://twitter.com/8bitsofsound/status/850464426264338434
https://twitter.com/SelimSeesYou/status/850464108872859649
https://twitter.com/Helma_Lennartz/status/850460818911010816
https://twitter.com/TheSwogBlog/status/850479539914493952
https://twitter.com/Build_The_Wall7/status/850487181005213698
As of publication time, #FireKushner is trending at #4 in the United States and poised to go even higher (UPDATE: Now at #1!). Will he actually get the ax? Probably not. But this is also about sending a message for future battles inside this administration. We won't go along with the Team Trump line when they sell out the people who put them in power. Bannon knows this. Kushner will have to learn…and we will teach him!
UPDATE: Twitchy also picked up on the #FireKushner tag, which was taken off like a rocket ship…
Lol, I made the Twitchy article about #FireKushnerhttps://t.co/c2TfohNA4U

Not my biggest tweet on the tag, but it's my best 🔥imo… pic.twitter.com/jDAp2kDtDG

— Ethan Ralph (@TheRalphRetort) April 7, 2017
UPDATE II: I'm sure this is a coincidence, but an hour or so after #FireKushner started to trend #1 on US Twitter (where it still remains at 10:22 p.m. Eastern time), this item appeared on Politico…
Steve Bannon and Jared Kushner, two warring senior White House aides, had a bury-the-hatchet meeting officiated by President Donald Trump, after arriving at Mar-a-Lago this week.

The sit-down, which was confirmed by two White House officials, was an attempt to smooth over tensions between the two men, which have dominated headlines for days. Whether the meeting was successful in creating a détente – and how long it lasts – is an open question, especially in a White House that has been dominated by infighting.

Bannon and Kushner had for months been allies. In recent weeks, though, there has been substantial discord between them. The fight, people in the administration say, centers on policy differences. Bannon, White House chief strategist, is a flame-throwing populist who formerly ran Breitbart News. He has criticized Kushner, Trump's son-in-law and senior adviser, for his more politically moderate approach. Kushner is suspicious of Bannon's fiery style and has been concerned about how he's influencing the president.

Suspicion between Bannon's team and Kushner's has intensified in recent days, with both sides accusing the other of planting negative stories in the media…

Word of the meeting comes as several news organizations reported Bannon, and possibly other senior White House aides including Chief of Staff Reince Priebus could be soon be forced out in a broader shakeup.