GUEST EDITORIAL by Cruentus
So, I'll be trying to keep this simple and clear. I've been with GamerGate (GG) since the beginning and have kept an active though extremely small role in GG for the past nine or so months. I think the thing that always confused me the most was the argument that there are no to very few strong heroines in gaming. While This argument has been soundly defeated in most ways, I failed to see two of my most favorite games of all time used as examples. To this day I still don't know why these two games didn't get the exposure they deserved, but I suspect the answer would be facepalm worthy. Incidentally both games happen to star rather strong female protagonists.
The first up would be Eternal Darkness: Sanity's Requiem…
Developed by Silicon Knights (Dennis Dyack) for the Gamecube, the console that was basically the N64 2.0, EDSR tells the story of Alex Roivas a woman who is called to her Grandfather's mansion after he is brutally, and mysteriously, murdered. The very unusual nature of the murder leaves Alex determined to discover why her Grandfather was killed and since she's not a police officer with access to anything they might find she decides to search the mansion for clues. what happens next is a lovecraftian joyride that many, myself included, had hoped actual Lovecraft games would be, and was sadly never the case….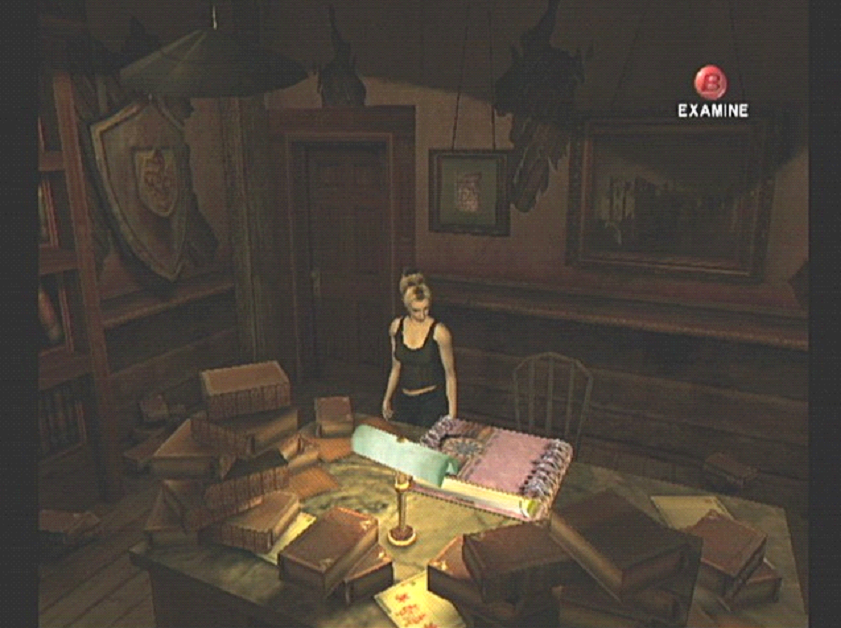 Alex herself is in college for a STEM field, and we are never given the notion that she is having trouble with it. In true Lovecraftian tradition the hero is a person of great education and possessed of both reason and logic, as well as no small amount of courage. The game centers around Alex's investigations and her ultimate confrontation with the big bad of the game, a over one thousand year old zombie centurion from the Roman Legion…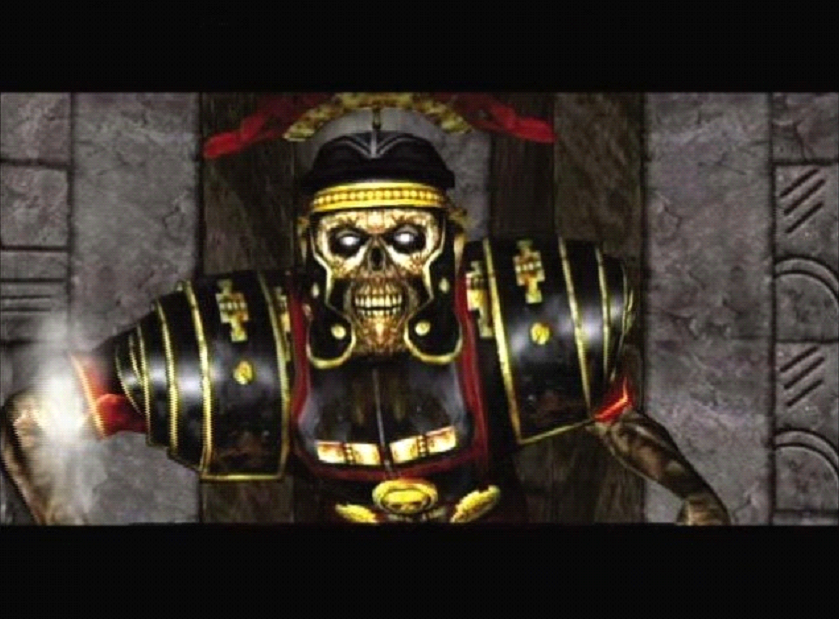 Game play is pretty standard tank controls, but with the added feature of being able to target the limbs and head. Which means it beat Dead Space to that concept by years. The magic system was unique, I don't think I've seen anybody do magic the same way anywhere else. You perform magic by collecting magic words that all stand for different things and then link them to an entity that provides power for the spell. The entity you link to determines the spells results and you can mix up the magic words to get all kinds of new and interesting effects. The entity you choose to link to depends on the effect wanted or the minion/spell you are trying to defeat, as the three abominations act as rock paper scissors to each other. It was a simple yet fun system that I wish I saw in gaming more often. The game also had a sanity meter and as you lost sanity from encounters with the supernatural your character started to hallucinate…
As for the story, I found it tight and well told. It starts with Alex and as her investigation unfolds we take on the role of the many other people throughout history who have played a key role in the fight. These people range from treasure hunters and firefighters all the way to village girls and ritch doctors who stumble into something over their head but rise to the occasion and manage to strike one of the many blows needed to see the evil defeated.
And that's what stood out about Eternal Darkness, the game has a happy ending. None of this grimderp humanity is fucked bullshit. Alex Roivas saves the day and she does it the only way it can be done, by being badass…
If you haven't played it yet I highly recommend picking it up. The story takes place across the entirety of recorded human history, starting with the time of Rome and ending in the present day. The game gives you a good sense of this secret war between humanity and eldritch abominations from beyond our dimension…
But let's move on the the next game. I'm a fan of horror games, and despite how much fun I had playing Five Nights at Freddy's the one horror game that will always have a place in my heart is Fatal Frame 2: Crimson Butterfly…
To this day I'm surprised that Fatal Frame isn't more popular. But maybe I shouldn't be. The games have a heavy focus on Japanese mythology and, apart from certain aspects of horror that are universal, many of the more subtle horrific things encountered in the games would fly right over the heads of most american players. Literally in the case of the crimson butterflies in FF2 and what they represent….
Fatal Frame 2 was released in America in November 2003, and tells the story of a pair of twins named Mio and Mayu Amakura and their fight to survive. The game begins with them visiting a forest they used to play in when they were younger one last time before a dam being built nearby completely floods the area. Naturally one of the twins, in this case Mayu, decides to wander off because she saw something shiny and wanted to follow it. You take control of Mio, who comes off as the more rational sibling throughout the entire game. Your task is simple, find your sister, who you love, and escape from the village of damned souls before they can damn you too.
And standing in the way of that is this lady…
For those who haven't played any of the Fatal Frame games the controls are simple, more or less. Tank controls are used for the most part, but when you are forced to battle evil ghosts, and you will, your only weapon is a camera that you must aim by going into a first person shooter mode to snap pictures of them. The ghosts are a joy to fight and the atmosphere the game sets up is masterfully done. Some might argue that the controls are a bit awkward and the run function barely counts as running and more as a fast walk, but the control design and slow run is there to up the difficulty and make things more tense as you struggle through the village in search of your sister and a way to escape. The main story I'm not going to spoil, as one of the joys of this game was slowly piecing together what had happened to the village and what ghosts have in store for Mio and Mayu. Let's just say it isn't pleasant and leave it at that.
My point in writing this was twofold. I wanted to shine a spotlight on these two gems so that they might get more of the recognition they deserved and I also wanted to show just how strong the characters for both these games were. Throughout Eternal Darkness you came to care for the many characters you played. With Alex especially, as she is drawn deeper into the madness that appears to be her families legacy. We end up celebrating with her when she succeeds.
With Mio we are there with her in her struggles to find and help her sister. Stuck in a horrible place with no idea how or why these things are happening, she pushes on because she loves her sister and wants to see her safe.
Both characters show great courage. Where Alex is the more intellectual and approaches her situation as someone with the skills that entails and a sense of anger over what has happened to someone she loved. Mio is forced to face something nobody prepared her for, or could have for that matter. She faces down the village with nothing but her love for her sister and a single out of date camera. Both of these games and the characters that populate them are a great example of why I like horror so much. Horror is meant to be dark so that the best parts of humanity can shine through. The woman who uncovers the occult past of her family and then uses that past and knowledge to save the world from impossible creatures. The young girl battling unspeakable horrors to save one of the people she loves most in all the world.
Horror has the ability to show a side of humanity that we rarely, if ever, see in other genres. These two games alone should show that not only are women not ignored in the industry, but in many places they are celebrated and shown to be strong human beings capable of a great many things.
To think anything less is mind boggling.