If you're a longtime reader of the site, you know a little bit about Ernest W. Adams. First off, in case you don't remember,  he founded the International Game Developers Association, better known as IGDA. He's also said a lot of crazy shit over the last year or so. I've covered most of it here on the site, if you fancy a look. Also, he seems to have a real penchant for dropping the n-word. Maybe he's a frequenter of /pol/?
Let's take a look back to September 2014 real quick:
So when I heard he was dropping more n-words and other offensive material, I wasn't surprised. The guy seems to be legitimately unhinged. I'm not just saying that, either. Take a look at this shit from last night:
Imagine if I had said something about "removing" bimbos. How do you think the other side would portray things? I can tell you for a fact that they would show no mercy whatsoever, even if it was just poorly worded. By the way, this wasn't a mistake in tone or language for Mr. Adams. He's labelled GamerGate a criminal conspiracy in the past, advocated use of Randi Harper's blockbot, and said a lot more crazy shit that I don't feel like looking up at the moment. Oh, and he's also Kate Edwards' mentor as well. She's the loon who currently heads up IGDA, and said this about GamerGate recently:
We have a situation where we have something that can be construed as a consumer backlash against the game industry. Whether or not it's really consumer-wide is very debatable, in fact. It's primarily a small group of people who gathered a following around an issue related to—It started with misogyny against an independent developer. It grew from there and spread to other indie developers, almost all women. There's a very strong harassment feed going on – doxxing, swatting, harassing them online.
Here's my tweet in response to IGDA's statement of disassociation today:
https://twitter.com/TheRalphRetort/status/641695358591102976
And some more reaction to this from the Twittersphere:
Let's hope the gaming industry will be as moved by this man's struggle as the music industry. pic.twitter.com/9cAZUq7j5B

— Adrian Chmielarz 🧙‍♀️🔥 (@adrianchm) September 9, 2015
@ErnestWAdams says he's going to "Keep yelling till the last big-boobed bimbo is out of gaming" here's an f u pic.twitter.com/yBk7nnqtXK

— ˢᵐᵃˡˡ ᵇᵘᵗ ⁱᵗ ᶜᵃⁿ ᵐᵃᵏᵉ ᵃ ʰᵉˡˡ ᵒᶠ ᵃ ⁿᵒⁱˢᵉ (@TessaVermilyea) September 9, 2015
https://twitter.com/antitumblrarchy/status/641700706110603264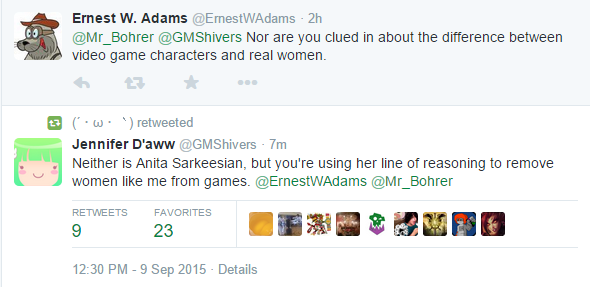 https://twitter.com/istheguy/status/641700169856233472
"Sorry dear, but you're not allowed in the vidya."#GamerGate #IGDA pic.twitter.com/ecoFDKuI4b

— Refvgee (@Blaugast) September 9, 2015
I think you get the general idea. He's been lampooned for the better part of a day now, with no end in sight. I know he's going to read this, since he stays quite thirsty for TRR content. So, while you're plotting to drive big-titted women and characters out of gaming, I'll be writing up the next post. Or eating delicious Chinese food. One or the other. I'll see you all in a bit. Lemme know what you think about ol' Uncle Ernest down below.
@TheRalphRetort Had a talk with Ernest W Adams and as soon as I mentioned Ralph Retort, he hanged up on me. Did you call him names?

— Red Knight (@RedKnight1981) December 15, 2014
(Cover credit: @Stitch_GG)