I was planning for my next trip to London last night while simultaneously working on some YouTube initiatives (if they don't unfairly ban my channel again, that is). Because of that, I was fairly absent from the site yesterday. Thankfully, the post I put up on BuzzFeed the other day has been doing well and carrying the traffic. If you missed it, be sure to go check it out. Anyway, the first thing I wanted to cover today was the smackdown that J.K. Rowling recently gave to a member of parliament (MP) from Glasgow.
I won't lie to you, even though I am an Anglophile, I had no idea who Natalie McGarry was before she flipped out on Twitter over unfounded charges. Then again, that's how it goes for people with little to no talent. I mean seriously, this woman is an elected official. What on earth is she doing taking a run at the best-selling author on the planet armed with only bogus charges? You would think she had better things to do, but I guess America isn't the only place where the political class is in desperate need of an enema.
Here's a short excerpt from The Independent that should give you a little background…
The Twitter spat on Thursday started with Ms McGarry, who represents Glasgow East constituency, accusing the author of "defending misogynist trolls" and said she "regretted" queuing up to buy Ms Rowling's books. When asked for evidence by Ms Rowling, the MP said the author had tweeted "support" of a user called "Brian Spanner".

The multi-millionaire questioned whether the argument was due to the fact that she had thanked the "Brian Spanner" account for raising money for her children's charity Lumos.

"You aren't some random hater, Natalie. You're an elected politician and you've accused me of supporting abuse and misogyny."
Eventually, the MP apologized, but not before throwing out a couple more salty tweets in Rowling's direction. I was going to screencap them and post the results here, but when I refreshed McGarry's Twitter feed, I received a funny surprise. It turns out she had done what all cowards do in this situation: went protected.

I've gone protected once or twice myself, but it was to guard against people who were trying to get my account unfairly banned. This kind of stuff is just weak otherwise. Although, I do get it. When you get roasted this badly, the inclination is to flee the battlefield…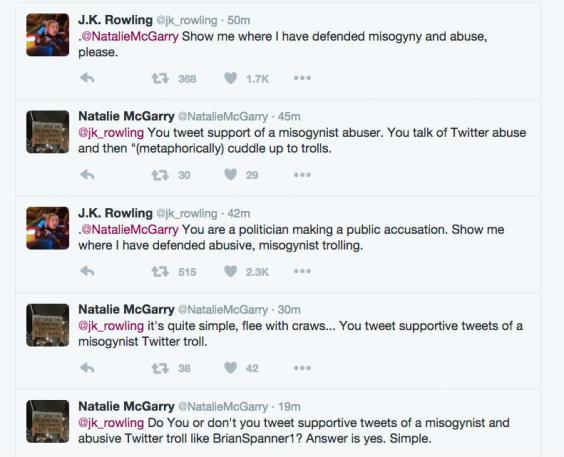 Like the story above said, McGarry apologized, and all then seemed to be done. But the idiot just couldn't keep her mouth shut, which resulted in this final shot across the bow from Rowling. It's not a good idea to piss off people who have dozens of lawyers at the beck and call, Natalie:
.@NatalieMcGarry I assume the apology's retracted, given the cut and paste screenshot you sent misrepresenting my interaction with BSpanner?

— J.K. Rowling (@jk_rowling) January 28, 2016
Thanks Nick. I'm thinking all damages to @lumos! https://t.co/YfEW8Q7v0Z

— J.K. Rowling (@jk_rowling) January 28, 2016
Honestly, you deserve to get sued, and I hope you do. Some idiots on Twitter were trying to tell me that libel on the platform is not actionable, but like most internet lawyers, they're completely misinformed. You can definitely be sued for the things you say on there. Now, is it always worth it? No. In fact, it rarely is. When you're J.K. Rowling, though, you can afford to piss away some money just to teach dummies a very costly lesson. We'll she if she decides to this time. If I was McGarry, I would be trying to remedy this situation…ASAP.
UPDATE: By the way, McGarry has a pretty colorful recent history. Where's the money, Natalie?
Natalie McGarry, suspended from the Scottish National party as police investigations continue into missing donations at the pro-independence group she founded, has assured her party leader that she is not guilty of any wrongdoing.

McGarry, who has withdrawn from the SNP whip, "is absolutely adamant that she is not guilty of any wrongdoing" in connection with the cash missing from the accounts of Women for Independence, SNP leader Nicola Sturgeon told journalists during a briefing at her Edinburgh residence.