Katy Tur has been an annoying presence on the national scene for well over a year now. She's actually been around longer, but I only started to really notice her due to the attacks she launched on then-candidate Donald Trump while out on the campaign trail. The funny thing is, Trump let her have it back just as good, although the phony and weak Tur tried to claim this was some kind of major episode of harassment. Yes, because responding to attacks made against you is now classified as abuse. Believe me, I have experience with this bogus formulation, and it's only magnified times 100 for someone like Trump.
Over my time running this site, I also became familiar with another Tur, Zoey (now there is a Hanna added in before the Zoey, apparently). This person is transgendered and used to be a helicopter journalist in Los Angeles. In fact, Zoey (aka Robert) kind of pioneered this beat with stuff like the LA Riots and OJ Simpson's subsequent Ford Bronco chase. That's a career legacy to be proud of, no matter what you think about the lifestyle choices since then.
Anyway, yesterday Zoey/Hanna/Robert decided to launch a broadside attack against Katy. The online press has been all over this, because, well, who wouldn't be? It has about 15 different tabloid justifications for going forward, even without the transgender angle. Still, that's by far the juiciest part of the story. Here you have a trans person labeling his own daughter, a prominent journalist for a mainstream media outlet, as a transphobe. It just doesn't get any better than that, from a sensationalist point of view.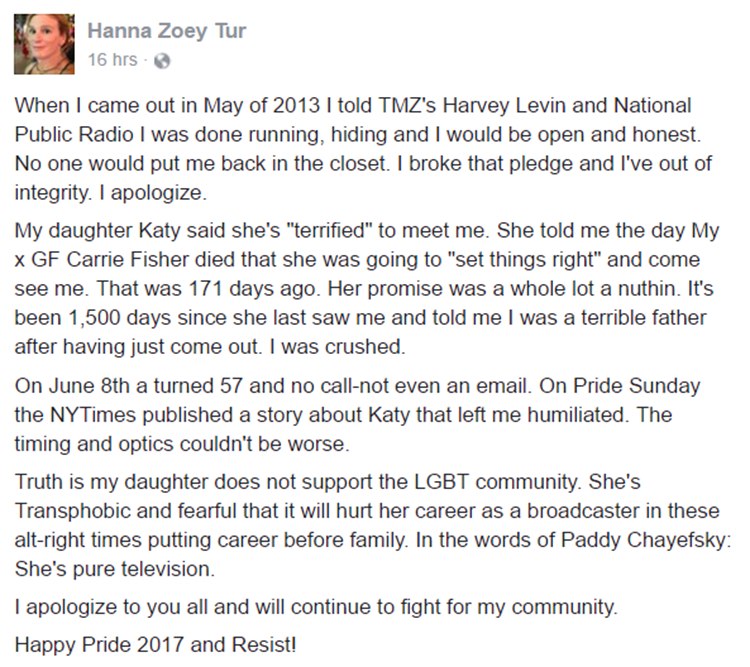 I'm on vacation, pretty much. When I originally thought about doing a piggyback piece on this topic, I was going to jump on the hypocrisy train. After all, here we have an allegedly liberal/progressive journalist who is supposed to be more "woke" than any of us, yet her own father/mother/whatever is claiming that she's transphobic and has cut them out of her life. That's easy to lampoon. I have to be honest, though. I would have a huge problem accepting my father if he decided to go down a similar path. Plus, the Tur's share the same line of work. Her father was her inspiration and the reason she got into the media business in the first place. This has to be an incredible burden on Katy. I can only imagine what it's like, thankfully.
Don't get it twisted. I still feel like most of Katy's reporting and commentary is garbage. But don't you have to empathize with this woman on some level? Maybe I'm just feeling charitable at the moment, because this is a pretty amazing story. At certain points, I would be laughing and making fun of the situation. In this moment, however, I can't help but to feel for Ms. Tur. Katy, not Zoey/Hanna. As a parent, you're not supposed to air your kids out in public like this. It's just wrong on so many levels.
Am I wrong here? Do you have any thoughts on this wild topic? Let me know, and I'll check back in later this morning. Thank you for bearing with me as I head into the home stretch of my week with Nora, by the way. It's much appreciated.