I've only gotten about 4 hours into Kingdom Come: Deliverance, but I've enjoyed it immensely. My wife, Nora, who was here for 10 days during her break from university (or college, as we call it in the United States), could tell you more about the game's story and mechanics than I could. Why, you ask? Well, it's because she basically took it away from me and put in 15 hours during our trip. I'm not bitter, but I do plan to catch-up to her progress over the weekend.
Now, for the news portion of this post, let me provide you all an update on the game's sales success. Last week, I told you that the title had sold over half a million copies in just two days of availability. Now, I am pleased to report that it's crossed the 1 million mark in just 9 days. This is an astonishing accomplishment, especially when you consider the hostile media environment this game has faced due to activist SJW members of the gaming press.
Seems that we have sold million copies in first week. Thank you! Patch is coming. pic.twitter.com/FM76QqxbtO

— Daniel Vávra ⚔ (@DanielVavra) February 22, 2018
Looks like we sold 1,000,000 copies of Kingdom Come: Deliverance in less than 2 weeks! This is truly amazing! Thank you sooooooooo much everyone! #kingdomcomedeliverance pic.twitter.com/ZOHDPHLYyE

— Rick (Fextralife) (@rick5292) February 22, 2018
More, from Gamesindustry.biz…
The milestone was celebrated on Twitter by several members of the Warhorse team, including CEO and founder Daniel Vavra and US community manager Rick Lagnese. Kingdom Come Deliverance was published by Deep Silver, and launched for PC, Xbox One and PlayStation 4 on February 13.

Warhorse was founded in 2011 by Vavra, a veteran of Mafia developer 2K Czech, and Martin Klíma, whose CV includes roles at Codemasters and Bohemia Interactive. The studio committed to using CryEngine for a still unnamed project back in 2012, and that project was revealed to be Kingdom Come: Deliverance in January 2014.

A successful Kickstarter campaign raised £1.1 million, far above the £300,000 target Warhorse wanted to attract further investment. Warhorse continued to crowdfund money through its own website, and had released alpha and beta versions of the game by the time it signed a publishing deal with Deep Silver in September 2016. 
There's also this handy graphic I made. It shows KC:D comparing quite favorably to the all-time classic, The Witcher 3: Wild Hunt: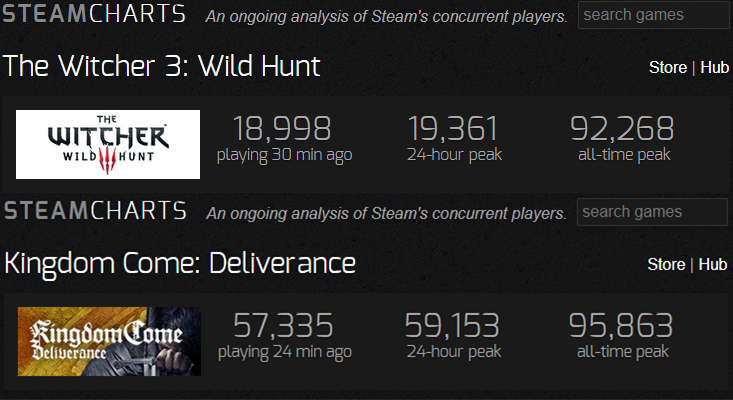 Congratulations to Daniel Vávra and the team at Warhorse Studios. As for me, I'll get some more playtime in tonight and over the weekend. And be on the lookout for a video from Nora and I soon discussing this topic.