I woke up late this morning, and boy was this a bad day to do that! Kanye West, seemingly confirming his statement from a couple weeks ago, met with President-elect Donald Trump this morning. Yes, that really happened and it's one of the most glorious things I think I've ever seen. Needless to say, this is all most regular people will be talking about for the duration of the day.
Kanye West meets with Donald Trump at Trump Tower https://t.co/HhhNjf1tVJ

— PILASACI (@pilasaci) December 13, 2016
So, what did they talk about? "Life," according to Mr. Trump. He also said that the two men had "been friends for a long time." They certainly greeted each other as if that was the case.
The Mega Powers unite! #Kanye pic.twitter.com/2HrrEHN7ua

— Ethan Ralph (@TheRalphRetort) December 13, 2016
https://twitter.com/intjWallyWest/status/808708207782854656
This is all causing the haters and losers, as Trump liked to call them not so long ago, to lose their freaking minds. I guess they thought Kanye was joking when he professed his support of Mr. Trump. Just 3 months ago, they were saying things such as…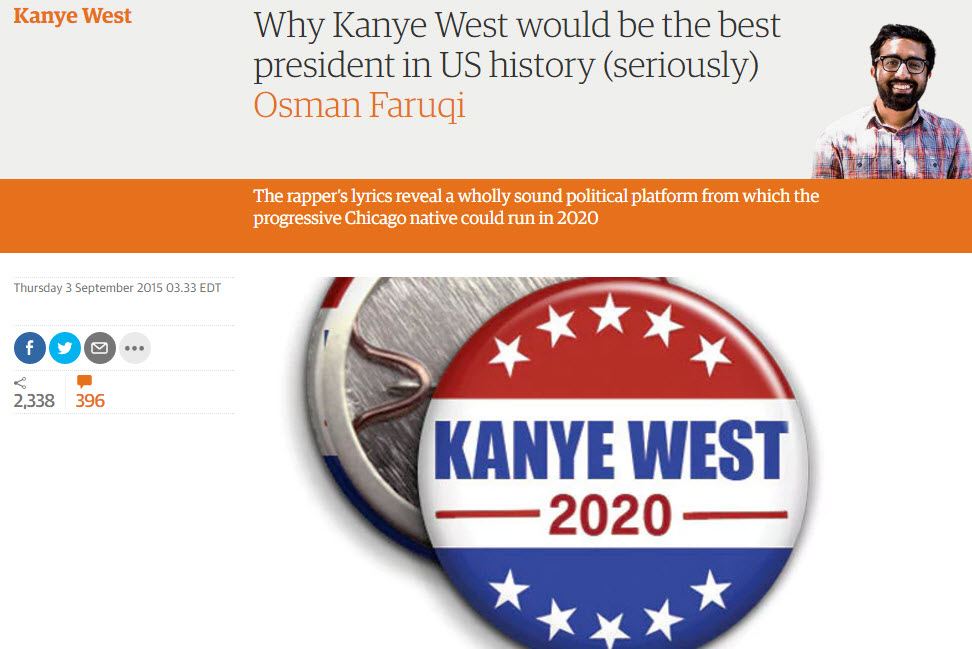 Today?
https://twitter.com/Crash_SYS/status/808681381270167552
https://twitter.com/LaurenPotter/status/808697011197345792
Kanye West should eat a Snickers®. He's not himself right now.

— NUFF (@nuffsaidny) December 13, 2016
https://twitter.com/1942bs/status/808691559684304896
It's time to give kanye away to the white people

— DADITO CALDERONE (@TAXSTONE) December 13, 2016
https://twitter.com/Olivianuzzi/status/808690500681273345
https://twitter.com/BobbyWitherspo2/status/808698554487345152
Trump is meeting with Kanye because Kanye is designing the uniforms for the camps. pic.twitter.com/mxsCdQgL1v

— Matt Fernandez (@FattMernandez) December 13, 2016
I hate the blond Kanye
I mean the Actin White Kanye
I got to say at this time I'd like to fight Kanye !!!

— Blacky Black (@Sucmytwidder) December 13, 2016
kanye petty af to do this on taylor swift birthday tho

— Desus Nice (@desusnice) December 13, 2016
Kanye probably doesn't even love Kanye anymore

— Ricky Smith (@Rickonia) December 13, 2016
https://twitter.com/akrish/status/808706371063463936
On some real shit… I'm tired of kanye… the white people can have him

— Jalen Reagor Ain't 🅿️ (@DrewWUD) December 13, 2016
You can keep Kanye. @whitepeople

— Tommy Fordham 🇩🇴 (@tommyford__) December 13, 2016
https://twitter.com/the_haylster/status/808695093112766464
UPDATE: This is the white chick who wrote that since-deleted tweet. As you can see, there's been a few deletions since I posted this: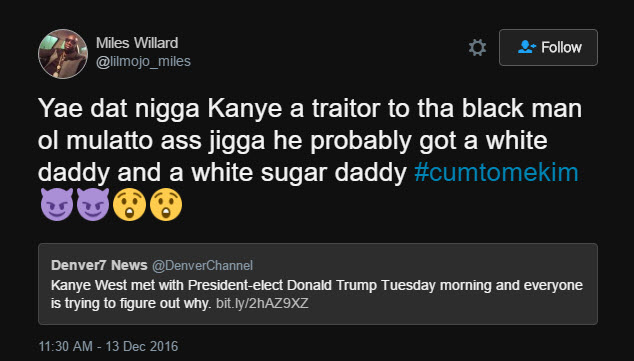 (He deleted this, but luckily I had it pulled up on my browser.)
@kanyewest ur stunt today with Trump just cost u a lot of fans! U support a Russian backed Pres. Wow! I support @HillaryClinton @POTUS

— Joe Hickman (@joehick58) December 13, 2016
Kanye West is a traitor to his race by keeping company with Trump.

— X_Inmate (@X_Inmate) December 13, 2016
Kanye a coon. I don't fuck with ppl who are cool with white supremacists 👌🏾 white ppl can keep him

— Sydneysky (@Sydneyskysaysso) December 13, 2016
Leftists just can't comprehend the power move they just witnessed (oh, and they're racist as hell). And the press has no hope against a media mastermind like this. Trump understands them, but at the most basic level, he understands people. This will be the only thing talked about among so-called "normies" for days. Stuff like this gets people animated.
Trump understands the media better than any person in our lifetime. It's incredible. #Kanye

— Ethan Ralph (@TheRalphRetort) December 13, 2016
I, for one, am ready for the encore.
Told you Kanye had been red pilled. Alex Jones Show appearance coming soon. https://t.co/TMDAVBCcBU

— Paul Joseph Watson (@PrisonPlanet) December 13, 2016
Some didn't believe me. They were wrong.

— Paul Joseph Watson (@PrisonPlanet) December 13, 2016