You had to know this would happen. In the wake of Trump's stunning win on election day, many reports of attacks against Muslims and blacks have made their way across social media. There's one problem with these reports, however.
They're not true.
An ugly story out of Delaware made the social media rounds on Wednesday after an African-American woman claimed "four males, all of whom were Caucasian" harassed and threatened her with racial slurs and violence outside a gas station.

At the center of the case is a Facebook post from Ashley Boyer of Rehoboth Beach, Del., which didn't indicate a specific location for the said incident.

Per Boyer's post, the men "proceeded to talk about the election and how they're glad they won't have to deal with n—–s much longer."

"We haven't heard from the victim, any witnesses or a store owner." – Corporal Brian Donner, Smyrna (Del.) police
She wrote that one of them approached her and said "how scared are u, u black b—-??? I should kill you right now. You're a waste of air."

Another man then brandished a weapon and said, "You're lucky there's witnesses or else I'd shoot you right here."

That post has since been deleted. In its place: a Thursday morning update noting that "charges were filed, fugitives were caught. Yes I (know) names and no I will not release them."

NonePolice in Smyrna – where the incident is alleged to have occur – told PhillyVoice on Thursday that no such reports have been filed, and they haven't heard from the alleged victim or anyone with information about a confrontation that occurred Wednesday.
Spokespersons for the Delaware State Police (which oversees Kent County), New Castle County police, Dover police and Smyrna police all said they had no such reports, either.

Corporal Brian Donner, who'd been in touch with representatives of various agencies when the post started making the social media rounds, said there are no records of calls to 911 and the non-emergency line in his jurisdiction.

"There is no record of this beyond what we've seen on social media and while there are several ways to file reports with us, social media isn't one of them for obvious reasons," he said. "We haven't heard from the victim, any witnesses or a store owner. We would love for any witnesses to call us, but have gotten no phone calls. There is no record of this occurring in Smyrna, if at all."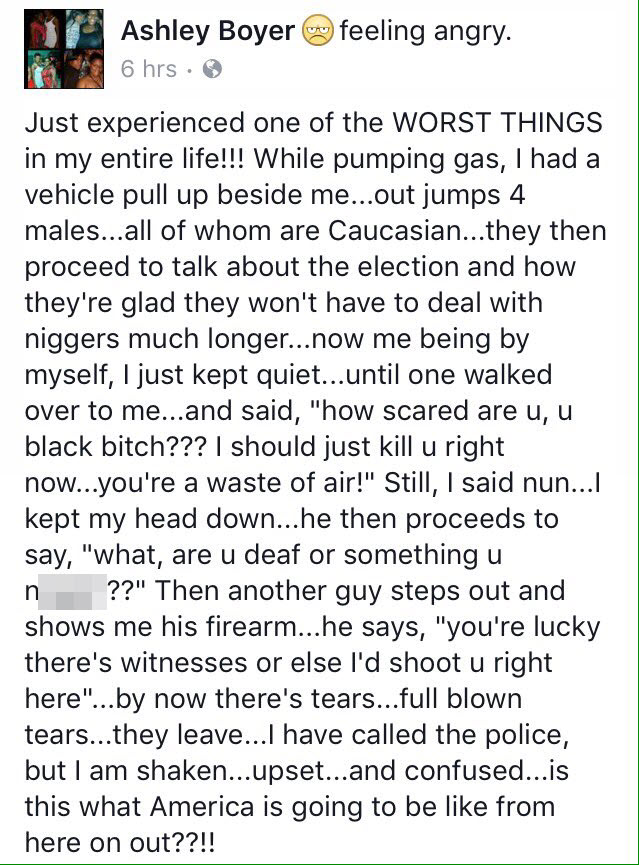 I knew this was laughable just on the face of it, but I'm glad to see this dumb broad get exposed. She's not the only one, either. Yesterday, I read a post from a young Muslim girl who claimed a Trump supporter ripped off her hijab and said vile things to her. I knew that one was fake as well, but it didn't stop so-called progressives from spreading the bullshit all over the place. Now, she's admitted it was fake.
A Louisiana college student admitted she made up reports of being attacked by two men, one she said was wearing a Donald Trump hat.

The Lafayette Police department say they are no longer investigating her claims. The University of Louisiana would not disclose whether they were taking disciplinary action against the student, citing federal law prohibition.

Authorities said the University of Louisiana student reported the alleged robbery Wednesday morning, and claimed one of the apparent attackers wore a white Donald Trump cap, according to The Advertiser.

Her claim drew on fears of anti-Muslim backlash in the wake of Mr Trump's election to the US presidency. His campaign stoked fears of Muslim immigration to the US that appealed to much of his predominantly white, nationalistic supporters. Multiple reports of hate crimes against Muslims, Latinos, black people, and the LGBTQ community have already surfaced.
Expect to see a lot more of these as we move forward. Here's a whole list of supposed attacks. Almost every single one of them sound fake. The lies (and salt) must flow!