Today in the "Male Feminists Are Almost Always Super Creeps" file comes this entry…
The Verge recently ran a story about an experimental comedy club in New York City that was shutdown because of fire code violations. They framed it as some kind of retaliation against Mo Fathelbab, the owner of said club. Oh, in case it wasn't yet clear, he's the "male feminist" in question.
4chan users on the "Politically Incorrect" /pol/ board are attempting to shut down DIY venues and art spaces in the wake of Oakland's Ghost Ship fire, Vice's Thump reports.

Thump quotes one 4chan user who, in a thread that has since expired, asked others to report spaces like Ghost Ship to police and fire departments. The idea is that some of these spaces — as was the case with Ghost Ship — will be in violation of building codes and can be shut down as safety risks. The poster reportedly called the spaces "hotbeds of liberal radicalism and degeneracy" and encourages users to "watch [liberal activists] and follow them into their hives."…

Thump's report proved timely last night when Brooklyn club the Experiment Comedy Gallery was shut down by the New York Fire Department. A surprise inspection was kicked off from an anonymous tip, but owner Mo Fathelbab told Brokelyn he believes a far-right comedian he recently banned from the space was the tipster. The comedian, Louie Bee, sent a string of tweets to President-elect Donald Trump, Eric Trump, and Donald Trump Jr. on Wednesday, promising to produce a comedy show that would "slam the SJW leftist bullshit in Brooklyn." Bee denied that he sent the tip or knew about the tip, telling Brokelyn that he's "semi-against" the 4chan movement to shut down community art spaces and DIY venues.

Fathelbab says he's looking for a new venue to host The Experiment Comedy's 31-hour "Fuck Donald Trump" comedy marathon, which is scheduled for inauguration weekend.
The whole article is a fucking joke. Mr. Fathelbab was trying to frame-up a dude named Louie Bee as the guy who got his shitty club shutdown. I've talked to Louie Bee, and this article is about to take a much more serious turn.
From Louie…
My name is Louie Bee I am an aspiring comic in the Communist City of New York. As you can imagine being a libertarian latino Trump voter and 9/11 truther is a high crime here. I was banned from a comedy club in Williamsburg, Brooklyn (my childhood neighborhood) called The Experiment Comedy Gallery. They were set to host a Fuck Donald Trump 31 hour marathon.

For the past week I have been dealing with accusations of having The Experiment Comedy Gallery shut down. I have no involvement in any of the events that led to the closure of that or any other venue. I have no ties to any groups advocating for the closure of any venue. I have not called on any of my 3000 Twitter followers or any independent third parties to troll anybody involved in the situation.

Any allegations of such are baseless and slanderous conjecture and libelous conspiracy theory. This conspiracy theory is rooted in a Facebook argument where I was critiquing Mr. Mo Fathelbab's preferred brand of comedy as well as being realistically critical of his business model of constant crowd funding. I may have touched a nerve when I demonstrated his longstanding inability to viably run a business.

Mr. Mo Fathelbab needs to blame me. Not the fact that he's so attention hungry to publicize "The Fuck Donald Trump Comedy Marathon" event, that is antagonistic to 60 plus million Americans. Not the fact that he was literally operating out of a potential death trap. Mr. Mo Fathelbab needs a scapegoat to mask his inadequacies as a businessman.

I have NEVER been inside his second venue. I am not versed in any aspects of the NYC fire code. While it may be construed that I had the motivation due to long-standing disagreement with Mr. Mo Fathelbab, I did not have the procedural knowledge or knowledge of any construction of fire hazards at the venue. Any links to me are tenuous at best and purely conjecture.

Due to these baseless accusations, I have been the target of online harassment by friends of Mr. Mo Fathelbab. I have been targeted for swatting and doxxing, in addition to calls for physical violence against me. I have the screenshots to prove this.

In the event of any physical violence towards me or my family, I will defend myself vigorously. Perpetrators of any crimes will be brought to Justice, and I have very strong inclination towards civil actions against any party even tangentially tied to them.

It has now come out that the SJW owner Mo Fathelbab [EDITOR'S NOTE: allegedly] date raped a female comic. I have a screenshot of her Facebook post. It is ironic because he banned me because my jokes were misogynistic. This is the total SJW political correct bullshit comics of a differing political belief have to deal with.
Oh yea, about that Facebook post…here it is:
(UPDATE: After publishing, I was asked to blur out the face and name of the accuser. This was at the request of the source, so I have complied…even though I have discussed my issues with this practice before.)
Like this if you donated to the experimental date rapist fund. #partoftheproblem

— Kerryn Feehan (@KFreehams) December 19, 2016
All I want for Christmas is higher profile comedy date rape scandals

— Kerryn Feehan (@KFreehams) December 19, 2016
Keep in mind, Mo Fathelbab is the same dude who accused Louie Bee of being some sort of woman-hating monster…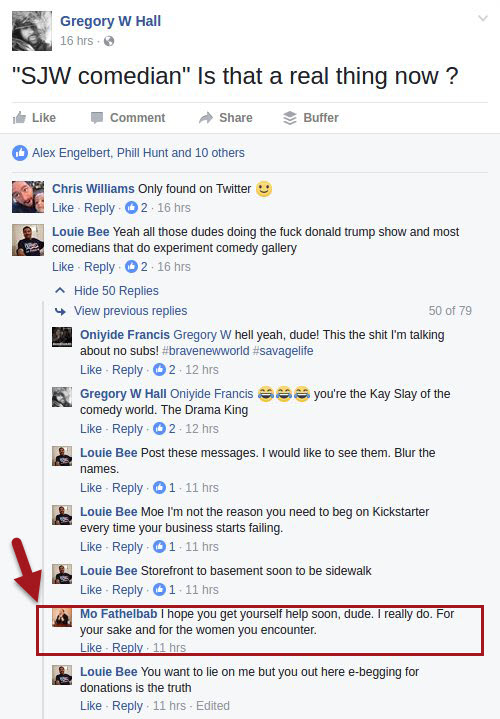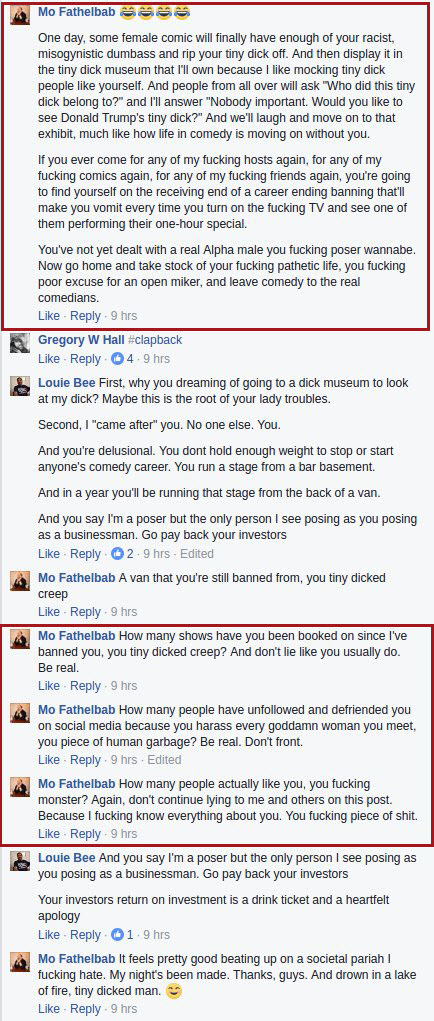 There were even people suggested that Louie be swatted…over something he didn't even do: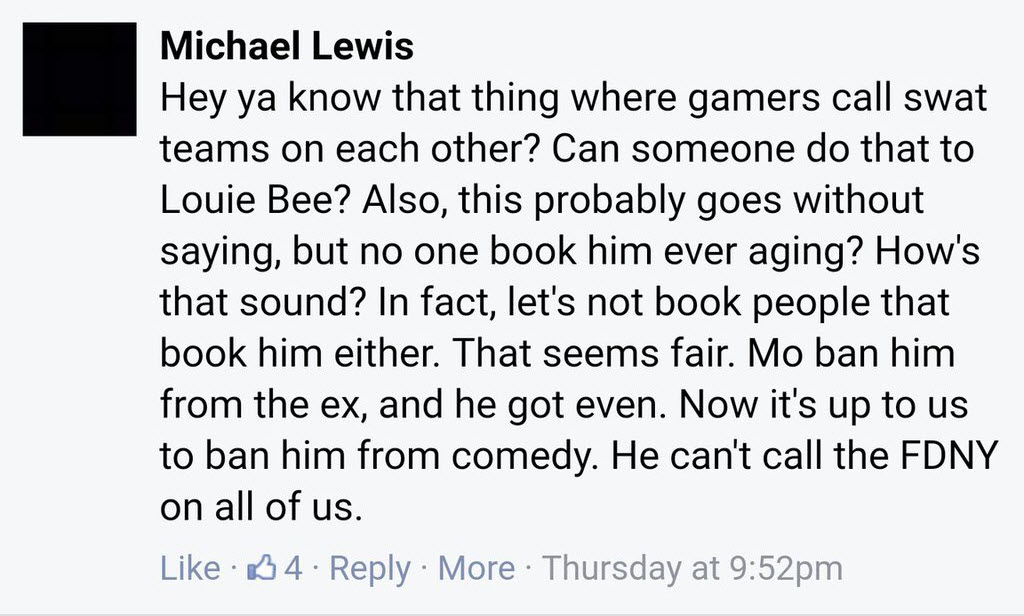 So, a swatting and a career-blackballing…all to defend an alleged date rapist who Mr. Bee didn't call the fire department on anyway. Anyway, what has Mo Fathelbab been up to since the rape accusation came out?
"It's over," apparently.

As of the posting time for this post, Mo Fathelbab's Twitter is on protected status and his Facebook account is deleted. He stands accused of a date rape and his unsafe club has been shutdown due to fire code violations.
Merry Christmas, Mo!
UPDATE: Here's the interview Nora and I did with Louie B after this story broke…
https://www.youtube.com/watch?v=7aulbmY1mT8&