Here's an update on the male feminist comedian (sounds like an oxymoron) who allegedly raped a female colleague. His name is Mo Fathelbab and he's finally come out to say something about the night in question. I seriously did not see his new response coming, either. He actually says he was the one who was raped that night. I don't know, maybe he was. It is possible. I just didn't expect the story to take this kind of a turn.
Unreal.
Unfortunately, I must comment publicly on a situation that was posted about on social media ten days ago, especially since news writers have contacted me. I can only write about what I remember about that night in March since it's a bit hazy for me as well. And I'll only speak for myself: I was drinking for most of the night behind the counter at 20 Broadway, including during the shows. Smoked some weed as well. At some point after the last performance, it was just me and Irene Merrow. I REMEMBER PULLING AWAY FROM HER WHEN SHE TRIED TO KISS ME, EVEN PROTESTING THAT I DIDN'T WANT TO BE WITH HER AT THAT MOMENT.

I don't remember what happened next that led to us being intimate, but I do remember having sex in bits and pieces, and I ALSO REMEMBER NOT BEING COMFORTABLE WITH THE FACT THAT WE HAD SEX BECAUSE I DO NOT REMEMBER GIVING MY CONSENT…

Months go by and an argument blows up online in October with another comedian. (That comedian was banning people from the venue in my name. I wanted it to stop.) In the middle of that, I get an email from Irene saying that she had indeed blown off that night but recently, she got to thinking about it. She wanted to know my side but felt that I had taken advantage of her when she was emotionally vulnerable and that she was also blackout drunk that night. I reply that I could only put bits and pieces together but that even though I was inebriated as well (more brownout than blackout because I had vague recollections), and remember pulling away from her kissing me, etc., I still apologize and accept responsibility for not being cognizant enough to not let any of this happen. She then sort-of-thanks me for the apology and points out in a question that I may have been blackout/brownout drunk too, and even asks if she might be responsible as well. I tell her no, just blame it on me. She decides to part ways. I agree…

Then, I blocked Irene on social media, so I didn't see the post until another friend called to tell me about. I have passed along my email exchanges with Irene to her. Another called me to say that she remembered us discussing my feelings of being taken advantage of. I'm still trying to process the entire situation. I'm still coping with the fact that I DID NOT CONSENT TO SEX MYSELF YET TO BE PUBLICLY FLOGGED MONTHS LATER.

I appreciate those who've reached out to me over the last ten days, especially after all of the stuff with the alt-right that occurred early in the month. And I appreciate those who took time out to listen to me, and to not dismiss the notion that I, a straight-ish adult cis-male, would be adamant about not consenting to drunken sex. But, I also implore folks to stop defending me whether online or in person. No need to mire yourselves in this matter especially with the brutality of the online mob and the fact that I've since left comedy. The Experiment is dead. The Fuck Donald Trump Marathon is dead. Please, focus on yourselves. People will believe what they want to believe. There's nothing I nor anyone else can do to change that.

Thank you.
Some screenshots were provided by Mo as well. I'm not sure if they help his case or not, but here they are…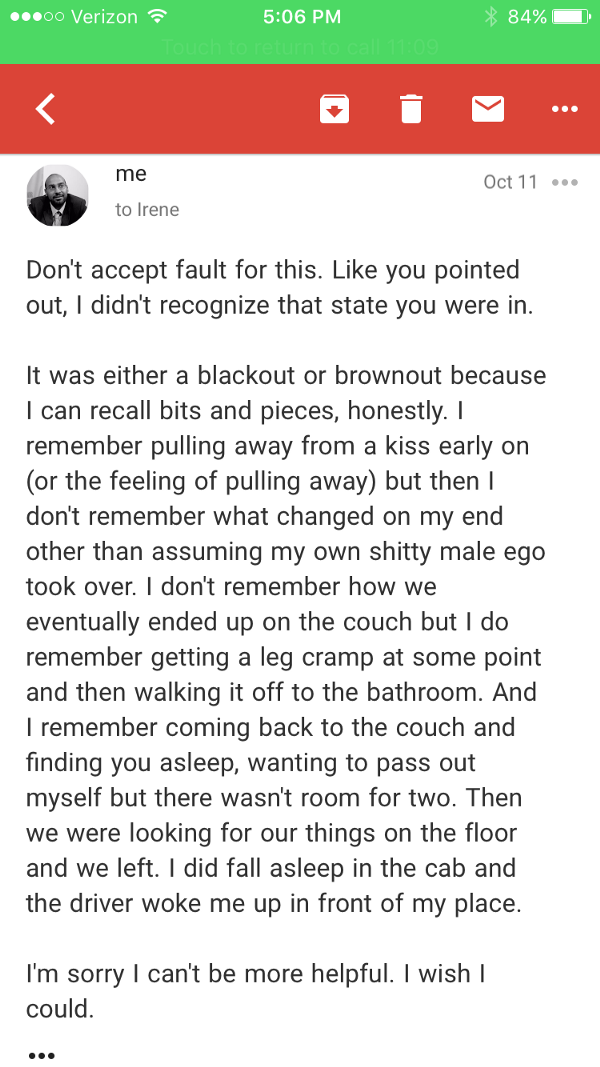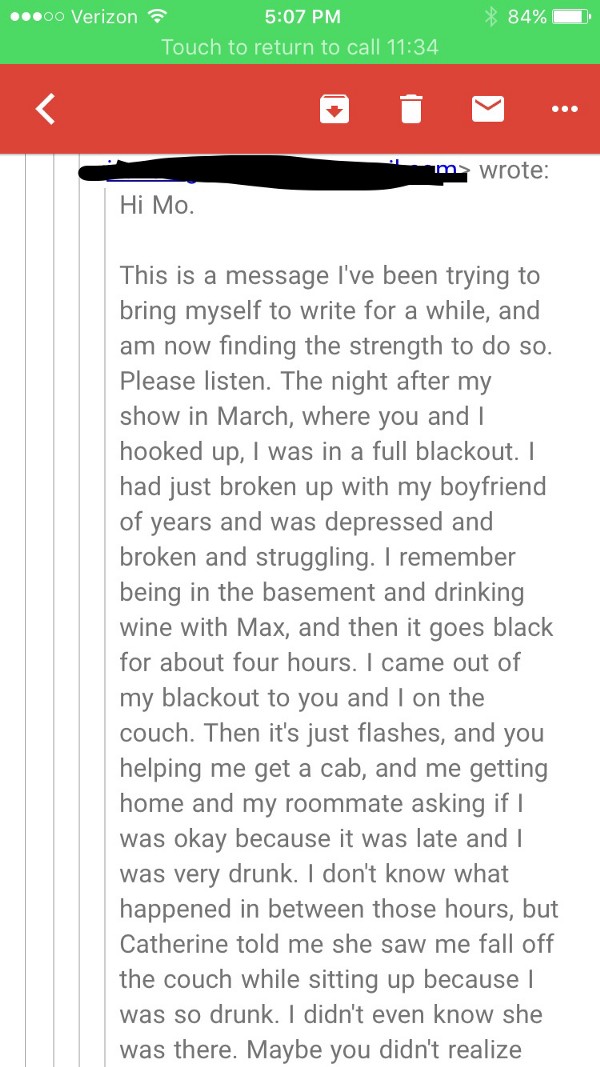 Oh well, his comedy career is over anyway. I guess it's time to close the book on this story, but I figured you guys would be interested in an update before I did.