You know, Zoe Quinn might be the biggest egomaniac we have had the displeasure to meet over the last 12 months. I know this is hard to say, with people like Brianna Wu and Anita Sarkeesian hanging around like shit on brand new shoes. But I think it's 100% accurate. As you know, there were multiple bomb threats made against SPJ AirPlay yesterday. Even with all that, guess who decided to make it all about her once again? The Queen of Queef, that's who. Is there no low this odious creature won't resist sinking to?
Here's what she put out Saturday night around 11PM EST:
August Never Ends, But It Isn't *The* End – http://t.co/G1nC45gIJs One year of GamerGate, 7 months of Crash Override.

— zoë "Mr. Wordlewide" quinn (@UnburntWitch) August 16, 2015
It's always All About Zoe, isnt it? Keep in mind, while The Zoepost did spark things initially, the "Gamers are Dead" articles took the shit to an entirely different level. That's what brought in the masses, not some two-bit skank from the indie scene. I had never heard of her in my life before GamerGate. Actually, I take that back. I did see the puff piece about her having the chip put in her hand on Kotaku. Why that was news, I'll never know. Maybe she hooked Patricia Hernandez up with some head in order to secure that placement.
Now that you have that disgusting thought in your head, let's move on to her temper tantrum from Sunday morning. Here's the notoriously loose Zoe Quinn, once again on Twitter:
Lmao polygon seriously just completely washed out GGs origins worse than when they covered me speaking at congress pic.twitter.com/XmiAHXKOw1

— zoë "Mr. Wordlewide" quinn (@UnburntWitch) August 16, 2015
If you remember, CONGRESS called GG out for what it was while polygons coverage had that "both sides" shit on it

— zoë "Mr. Wordlewide" quinn (@UnburntWitch) August 16, 2015
My succinct response?
.@TheQuinnspiracy pic.twitter.com/9hZ6mVjQh4

— Ethan Ralph (@TheRalphRetort) August 16, 2015
The Polygon article wasn't necessarily perfect. There were a couple points that I would have made that Owen Good didn't. But at the end of the day, it was pretty fair. It was damn sure more accurate than almost every other article the site has ever published on GamerGate. The reaction from Zoe and her disgusting crew? Time to smear the writer!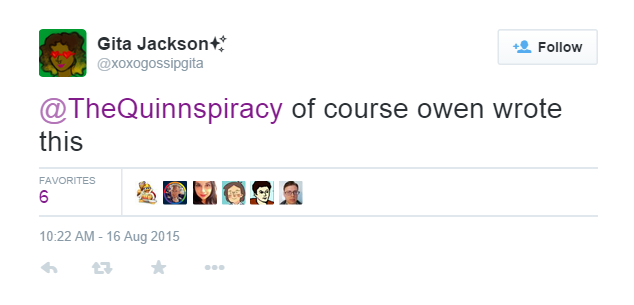 https://twitter.com/avestal/status/633048451823964160
Down goes the self-confessed pedo!#GamerGate #SPJAirPlay pic.twitter.com/EyYJ4RvjiT

— Ethan Ralph (@TheRalphRetort) August 17, 2015
It looks like some journos are starting to get fed up with self-appointed moralists like Sarah "Butts" Nyberg telling them how to write copy. This vile pedo fuck has no right to say anything about how to act, much less prance around Twitter like she approaches anything close to respectability. Why even give this sort the time of day? Mock and move on. That's always been my advice, and it continues to be my advice now.
Distasteful sluts like Zoe Quinn will continue to make the presence known. I'll continue to make fun of their atrocious records, and spotlight them occasionally here on the site. Look at all that's happened in the last year, though. This explains things pretty well, I think:
The tide is turning, that's for sure.