I was never a fan of Mitt Romney and that hasn't changed. I think he was a horrendous candidate who had little to no chance of beating Obama in 2012. I understand many people think that Donald Trump is also a terrible choice, but the difference is, the folks who are currently acting like babies about his nomination victory ended up backing Romney despite all his flaws. The other difference is that Romney was just straight-up boring and hard to listen to. No matter what you think of Donald Trump, the guy is probably the most entertaining candidate to ever be nominated by a major party in the United States (and perhaps even the world).
The same can't be said about Romney. In fact, drying paint may be more exciting than Mitt. Still, some #NeverTrump'rs have decided that he may be their third-party ticket come this November. I've never seen a man more desperate to be president in my lifetime, so I fully expect him to give this a very hard look.
I tangled with his former top campaign strategist the other night on Twitter. I say former, but all indications are that he's still a top member of the Romney brain trust.
You guys planing to drag RoboMitt out and run him 3rd party? Cause I'd love to see him get rekt again. https://t.co/7ztA0vFgAj

— Ethan Ralph (@TheRalphRetort) May 4, 2016
Lol I'm good, Stu. American born and bred.

Unlike all those illegal workers Mitt had on payroll.@stuartpstevens pic.twitter.com/pqF6Y2bwp9

— Ethan Ralph (@TheRalphRetort) May 4, 2016
I know you Romney guys kinda stay out of touch with the common man. Understandable.

But Trump's writing off no one. #47%@stuartpstevens

— Ethan Ralph (@TheRalphRetort) May 4, 2016
You're not American & not fooling anyone. So no need to try so hard. https://t.co/LuNiVWiiiR

— stuart stevens (@stuartpstevens) May 4, 2016
.@stuartpstevens is actually one of the less crazy #NeverTrump'rs. Only on Twitter can you shitpost with a former top campaign strategist

— Ethan Ralph (@TheRalphRetort) May 4, 2016
Also, I'm fairly certain they're gonna fire up Mitt again, so that means more $$$ for Stu. I'd be jovial as well. @stuartpstevens

— Ethan Ralph (@TheRalphRetort) May 4, 2016
Now, while I admitted that Stuart Stevens, the strategist in question, is one of the more good-natured Trump haters, his actual strategy leaves a lot to be desired.
Remember this stroke of genius?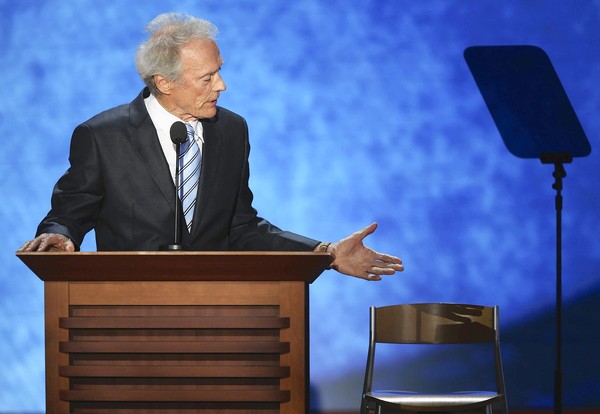 Behind the scenes, Mr. Eastwood's convention cameo was cleared by Mr. Romney's top message mavens, Russ Schriefer and Stuart Stevens, who drew up talking points that Mr. Eastwood included, in his own way. They gave him a time limit and flashed a blinking red light that told him his time was up. He ignored both. The actor's decision to use a chair as a prop was last-minute, and his own.

"The prop person probably thought he was going to sit in it," a baffled senior aide said on Thursday night.

Mr. Eastwood's rambling and off-color appearance just moments before the biggest speech of Mr. Romney's life instantly became a Twitter and cable-news sensation, which drowned out much of the usual postconvention analysis that his campaign had hoped to bask in.

It also startled and unsettled Mr. Romney's top advisers and prompted a blame game among them. "Not me," an exasperated-looking senior adviser said when asked who was responsible for Mr. Eastwood's speech. In interviews, aides called the speech "strange" and "weird." One described it as "theater of the absurd."
In fact, his 2012 campaign was pretty much a disaster all the way around…
In a column a couple of days ago, Peggy Noonan, the former White House speech writer for Ronald Reagan, said publicly what many Republicans have been saying in private for months: "It's time to admit the Romney campaign is an incompetent one. It's not big, it's not brave, it's not thoughtfully tackling great issues. It's always been too small for the moment." Stuart Stevens, Romney's mercurial campaign manager, is the piñata of the moment, with Republicans blaming him for everything from failing to settle on a clear message, hogging too much responsibility inside Team Romney—he's in charge of speech-writing and advertising, as well as overall strategy—and bungling Romney's speech at the convention. Stevens "sold himself as a kind of mad genius," Noonan noted acidly. "I get the mad part."
And his 2016 season hasn't been that much better…
The top strategist to 2012 Republican presidential nominee Mitt Romney doesn't think 2016 front-runner Donald Trump will even be in the race when the first votes are cast.

Stuart Stevens, an unaligned strategist who spearheaded Romney's successful bid for the GOP nomination, said Monday that Trump is likely scared of losing.

"I don't think he's going to be on the ballot by February 1," Stevens told CNN's Jake Tapper on "The Lead." "The greatest sin in his value system is to be a loser, and most people who run for president lose. I don't think he'll risk it."
That was a common theme for Stevens…
Making political predictions rarely turns out well, but here's one: Donald Trump will not be a candidate for president in 2016.

What? Yes, I know, he's already announced. In my view, though, he won't take this all the way to the ballot in Iowa, New Hampshire, or any of the Republican caucus or primary elections.

Why? Because he's Donald Trump and everything we know about him tells us he won't do it.
His own campaign compatriots seem to have pinned most of the blame for the 2012 loss on him. That may or may not be fair, but given the sterling contributions outlined above, who am I to disagree with people who worked with Stevens daily? About the only good things that can be said about him is that he likes college football and he has fun on Twitter. Oh, and that he isn't Mitt Romney. Other than that, I don't see much. I definitely can't understand anyone willing to pay him millions of dollars to run their campaign. Maybe he can't either, which is why he seems to be interested in reanimating Mitt.
I, for one, support those efforts. I need even more lulz this fall.