It's been a long couple days for me personally, but I won't get into that now. Instead, I think I need to lighten the mood a little bit. How about we examine a nutcase who claims to have whored herself out to the alt-right in order to go undercover and "expose" them? Oh, but she didn't fuck anyone. Of course not. How dare anyone make the assumption that it went that far!
https://twitter.com/PettyBeeLover/status/970754769898717185
Once again, Jeff Holiday comes in to do some bootlicking…
https://twitter.com/JeffHollandaise/status/970789372634136576
Apparently, this woman has been doing this sort of thing for quite some time. Not only did she mess around with Cascadia, a Pacific Northwest secessionist organization, she was also allegedly responsible for doxing an alt-righter close to Richard Spencer back in the fall.
An alt-right podcast from last month alleges that a woman going by "Karma" has for several years been gaining the trust of single men in the "alt-right" movement and then exposing their personal information online. The website Restoring the Honor, which independently published many of the same materials we were sent, also cites a "Karma Reynoldson" as the source, and tweets made by user @KarmaReynoldson are the first public online source for these images.
Ms. Reynoldson certainly has an interesting internet footprint. I can't imagine why anyone would theorize that perhaps she was just looking for a way to whitewash her alleged penchant for alt-right reaming.
https://twitter.com/PettyBeeLover/status/971331210399158272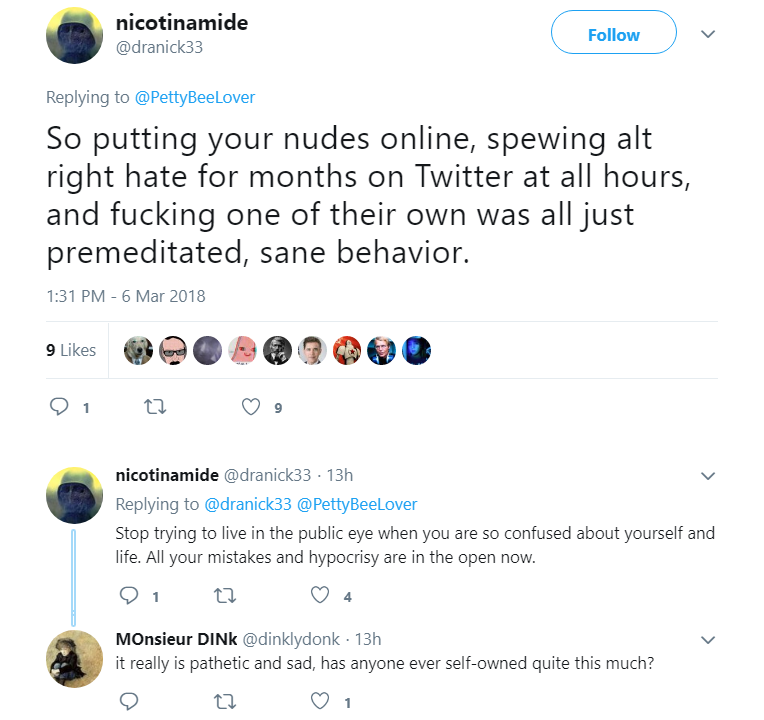 Speaking of her internet footprint, here's the look she took on back when she was supposedly attempting to "infiltrate" the alt-right: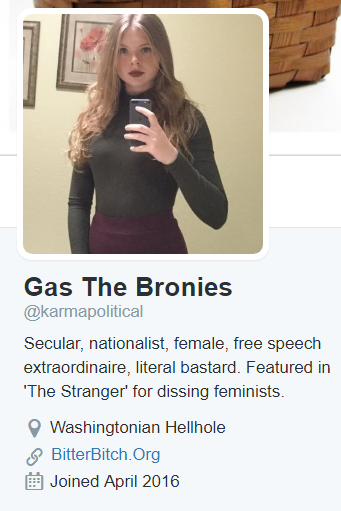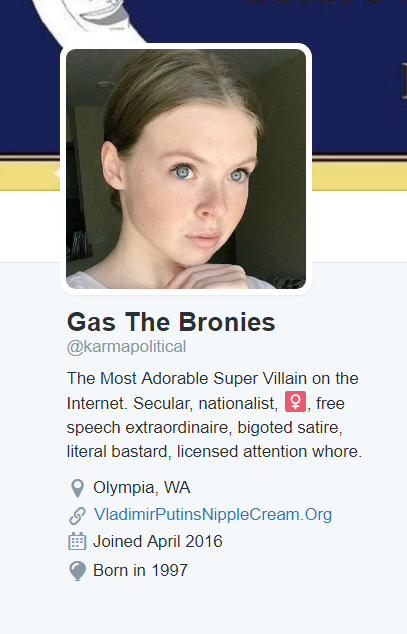 I don't know how much cock she took during this mission, but I guess the anti-fascist mindset makes all the possible gobbling worth it. I'll update this post if I see anything else noteworthy, but I mostly just wanted to laugh at this self-owner.
UPDATE: Read more about this post here.