Usually I would come here and talk some shit about SJWs. But, like most people around the world, I'm focused on the carnage taking place on Wall Street this morning. The markets opened with a steep ass 1,000 point drop. I'd heard reports that trading had been halted, but it hasn't happened. In fact, the Dow has rallied back to -350 as I write this. If they can somehow keep this below 500, I would have to say that could be probably considered a success. But what's caused all this, you ask?
Shares in Asia were hit overnight, with the Shanghai Composite in China closing down 8.5%, its worst close since 2007. Global investors worry about growth in the world's second largest economy. China's central bank devalued the country's currency, the yuan, two weeks ago, raising fresh concerns that a slowdown in the country's economy was worse than originally feared.

Currencies and commodities are also falling sharply, because those markets rely heavily on strong demand from China. The Shanghai Composite tumbled by 8.5%, its biggest fall since 2007. That plunge wiped out this year's gains as investors refused to buy into the Chinese government's repeated attempts to shore up confidence.
In other words, fuck you China. But, it seems like a rumored interest rate hike was also driving the negativity today. Obviously, I think it's safe to say that isn't going to happen now. There's no way The Fed can get away with that shit after this morning. I'd expect rates to remain unchanged throughout the rest of the year.
Obviously the financial markets aren't my thing. I'd much rather be arguing about the culture war or talking politics. Hell, wrestling would be preferable. But, this is the biggest story of the day, so I figured a write-up was appropriate. Before I go, let me show you guys some reaction from Twitter:
"Money itself isn't lost or made, it's simply transferred – from one perception to another."
—G. Gekko#BlackMonday https://t.co/c4UlRarsqe

— Paul Papadimitriou (@papadimitriou) August 24, 2015
We're all upset about One Direction splitting up, but #blackmonday is an over-reaction.

— Richard Osman (@richardosman) August 24, 2015
Funny to call it #BlackMonday when entire market is in the red.

— Pedro da Costa (@pdacosta) August 24, 2015
photos of guys with hands on face are down 10.7%! as global market runs perilously low on these images. #blackmonday pic.twitter.com/eQ6vqJeBsY

— New Horizons (@Atar_6L6C6) August 24, 2015
Looking at your stock portfolio today #BlackMonday pic.twitter.com/AA0z0xcfVR

— Tyrion Lannister (@GoT_Tyrion) August 24, 2015
Trying to understand what's happening with the Chinese and New York stock exchange #BlackMonday pic.twitter.com/YCtbJ56M4N

— Jess Devonport (@jess_devonport) August 24, 2015
#BlackMonday
Stock market crashing bigtime – just bought entire Exxon Corporation for $572. Want me to name an oil well after you?

— Rick G. Rosner (@dumbassgenius) August 24, 2015
Who put Lord Grantham in charge of the stock markets? #BlackMonday

— The Dowager Countess (@theLadyGrantham) August 24, 2015
(Downton Abbey reference)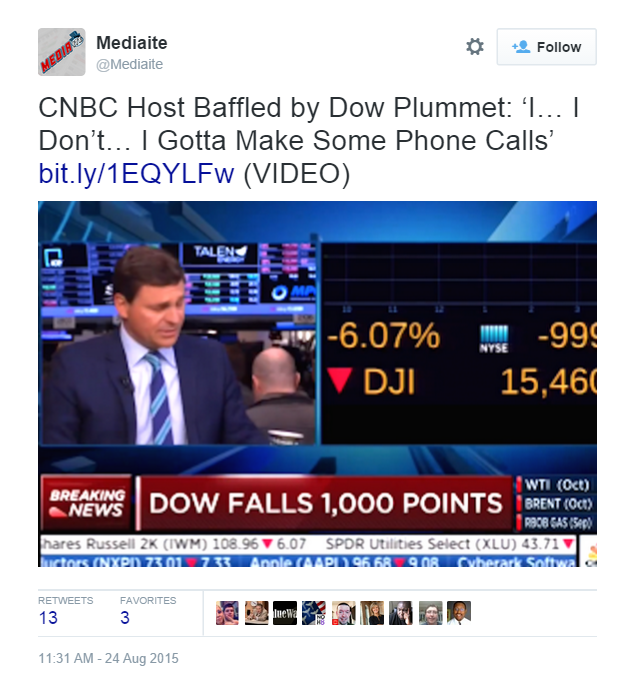 (Mediaite link)
And with that, I'm gonna bounce on over to the next post. However, I'll likely come back and update this one as the day rolls along. We'll see where things end up when the smoke clears (Dow is down 342 points as of 11:48AM EST).