I've been kinda under the weather today, so I apologize for the lack of posting. When I woke up, I got to watching a documentary, so that cost me another couple of hours. But, here I am. Let's get to the late-breaking news, before I go and cover what I missed for the day. It looks like two pro-GamerGate outlets are in an ethics slapfight with one another. Without judging, let's take a look at the situation.
TechRaptor put out a report accusing GamesNosh of plagiarism earlier tonight. Here's an excerpt from that piece:
It is with apprehension and a heavy heart that we have to bring the following information to light.

First off though, we'd just like to emphasize how much work we here at TechRaptor do to try to to do things right. We will most assuredly fail every now and again and expect the feedback we receive to only make us better.

We put a lot of effort into our original ethics policies, and an even larger amount of time and consideration into the new one we fully rolled out. The same can be said for anything we have rolled out for TechRaptor, like the information included on our Patreon.

We're all about better journalism and know that it will do some great things for the community. However, we can not just stand by as someone capitalized on our hard work without a mention that it was taken from us. It's worth mentioning that after some digging, both of these particular pages have been this way for months, and TechRaptor was never notified of the use of our ethics policy or Patreon page.

It has recently come out our attention that GamesNosh copied our original ethics policy nearly word for word, basically just changing "TechRaptor" to "GamesNosh."

Here is the live version of their ethics policy and the archive of it. According to their website it went live September 1st 2014.

Here is the live version of TechRaptor's policy (the old one). Ours went live August 31st 2014. We also have emails from August 31st announcing it to the staff.
Like I said, I have no comment to make about these charges. I've always been a big supporter of TechRaptor (and Ms. White), which is why you see them here on the page. The GamesNosh people are cool as well, and I have nothing against that outfit. I follow them on Twitter, and they seem to be a good outlet as well. To be honest, I don't have time to scrutinize either one too closely, beyond reading some of their more interesting pieces. Still, I like to think that both are dedicated to ethical behavior.
GamesNosh put out a response a short time ago: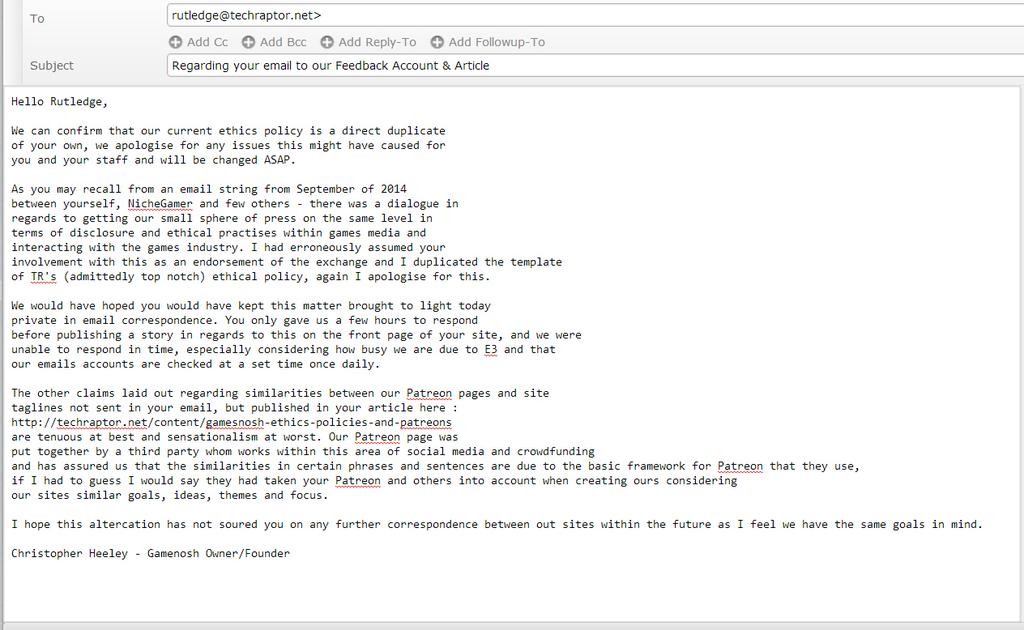 Followed by this from the official TechRaptor account:
Like I mentioned repeatedly, I'm not going to take a postion here. But I bet some of you all will. At least, I hope so. Let me know what you think down below in the #BasedCommentSection. I'm going to go round up some more news for the day. Hopefully, both sites can move beyond this dust-up relatively quickly.