American Sniper (2014). Directed by Clint Eastwood. Starring: Bradley Cooper & Sienna Miller. Based on the book "American Sniper" by Chris Kyle, Scott McEwen, & James Defelice. Distributed by Warner Bros. Nominated for Six Academy Awards, including: Best Picture, Best Director, Best Actor, & Best Adapted Screenplay.
Most of you probably don't know this, but I used to do occasional movie reviews here on the site. No one read them, and I accidentally deleted all my old articles, so I can't cite one. But, take my word for it. I think the last one I did was for Nebraska, which was itself an excellent movie. Today, we examine American Sniper. Recently, it has taken a lot of heat due to dumbass people on the left side of the political spectrum claiming that it glorifies war. I don't think anything could be further from the truth. It's so far from reality, that I have to wonder if these people aren't letting their political feelings (and personal feelings about Eastwood) get in the way of an honest judgement. 
Personally, I love Clint Eastwood, and always have. I grew up in a household that valued classic Westerns. The Good, the Bad, and the Ugly is a top 3 film for me. Gran Torino is a classic. Flags of Our Fathers and Letters From Iwo Jima are stellar. Unforgiven is one of the best Westerns ever, and throws conventions out the window. Mystic River, Million Dollar Baby…the list goes on and on. How could anyone disrespect a legend like this?
Well, I think a lot of it has to do with his segment at the Republican National Convention in 2012. Eastwood has always been open about his libertarian beliefs, but this seemed to open the floodgates of criticism. The appearance itself was an unmitigated disaster, of course. But that's for another day.
The thing about it is, I'm far from a right-winger. I cringed when I saw Clint's skit with the empty chair. But, I didn't hold that against him. Shitting on everyone with an opposing political view is foolish, especially when they aren't a politician in the first place. The biases some lefties carry into the debate blind them from the real truth of the matter.
Here's some quotes from some well known liberals, which demonstrates what I'm saying: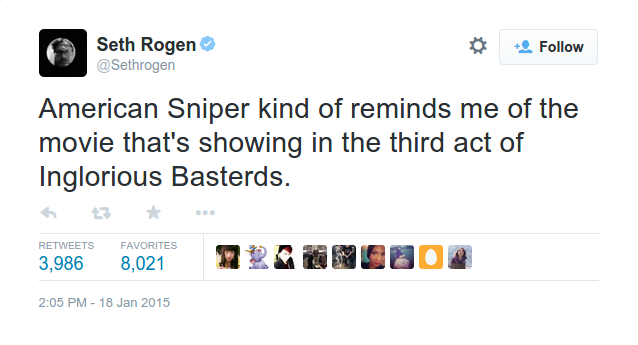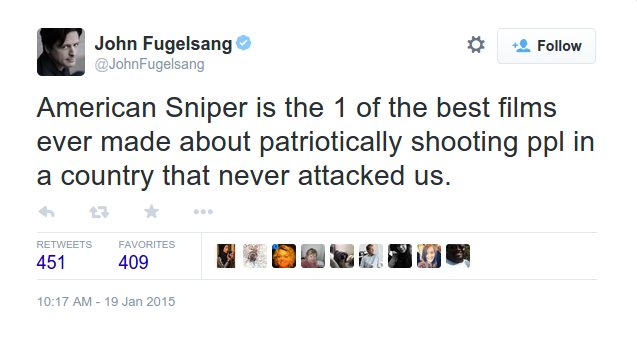 I could cite several more, but you get the point. Still, not to be left out, all the right-wingers are saying it's validation for their worldview. I hate to pick on a Breitbart editor, since Milo is so based, but John Nolte is just as wrong as the liberals:

I watched American Sniper this morning. Anyone saying that this movie glorifies war, or that it's a defense for the Invasion of Iraq, is missing the point entirely. On the flip-side, people who are saying that Eastwood made some love letter to neoconservative foreign policy, are wrong as well. The film is about neither of those things. At its core, American Sniper is about seeing war through one man's eyes, and witnessing the toll it takes on his psyche, family, and existence in general.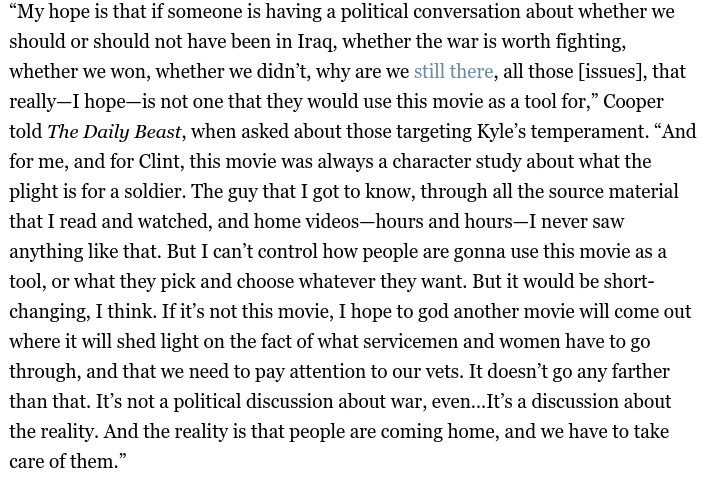 The fact of the matter is, this was a man who had controversial real life beliefs. He really did call Iraqi enemies "savages." It wasn't just in the film (a common criticism against the movie). He was a guy who believed in the War on Terror. He was one who saw the United States as an idea and promise to worth dying for, and not just a country. Paul Reickhoff, a left-wing Iraq War veteran, put it like this: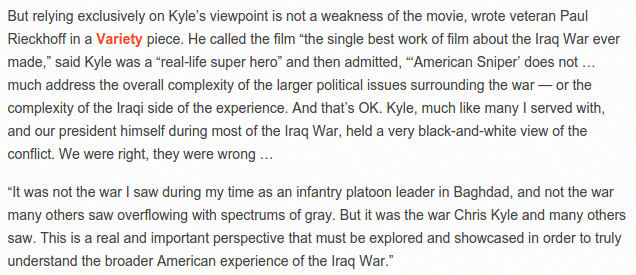 As Reickhoff intimates, the movie is told entirely through the eyes of Chis Kyle (played by Bradley Cooper). Still, Eastwood shows a Chris struggling with the weight of his service and high level of aptitude. Was this the real Kyle? I can't say. This shows the intentions of the filmmaker, though. Clint focuses in on the death and maiming that takes place in every war. I find myself agreeing with Richard Brody's take on the film:
Speaking of Bradley Cooper, he's amazing in this film. With this performance, he's solidified himself as one of the best actors of his generation. I already thought him to be, after his Silver Linings Playbook outing. This, however, nails the door shut. He is one of the top actors in Hollywood now. It's official. He becomes Chris Kyle for this role. You find yourself forgetting that Bradley Cooper is playing someone else. At this early stage, he's my top pick for Best Actor.
Sienna Miller is amazing, so much so, that I didn't even recognize her until the second act. I knew very little about this film going in, other than Bradley Cooper was the lead, and Clint Eastwood was the director (I've been immersed in GamerGate for five months lol). I had heard awhile back that Miller was in it, but it totally slipped my mind. I was asking myself, "Who is this amazing actress?" The sad thing is, I've seen Sienna Miller in at least 15 movies. I don't know if this is a commentary on my ignorance, lack of sleep, or Ms. Miller's brilliance. Nonetheless, she is outstanding in this film. I haven't seen all the other entries yet, so I won't say she was cheated out of an Oscar nomination (yet).
The supporting cast all do their jobs well, and the directing from Eastwood is some of his best. I was on the edge of my seat repeatedly during American Sniper. The pacing, suspense, and action are all top notch. They even throw in some great overhead (and ominous) shots of Iraq. The whole thing is perfectly done, and I wouldn't be too surprised if Clint took home another Best Director statuette. This negative PR campaign is designed to take all that away, but keep in mind: they tried the same thing last year with Cate Blanchett (because she was nominative for Blue Jasmine, a Woody Allen film). She won Best Actress. These sorts of campaigns aren't always successful.
Joe Q. Public obviously doesn't care. The movie just broke all sorts of records with its release this past weekend:
Like me, most moviegoers put manufactured SJW controversies behind them when they go see a film. Is it good, or not? That's the question. I haven't seen every Best Picture nominee, but I have seen Boyhood (another heavyweight contender). This is the only film that could give it a run for its money so far (keeping in mind I still have to watch Birdman, etc). The closing sequence left me in tears, and that has as much to do with Bradley Cooper's performance, as anything else. As I said, he's my early frontrunner for Best Actor. Clint Eastwood has delivered us another classic, and is rapidly moving up the "G.O.A.T." list. If you haven't seen this movie yet, make it a point to change that. It's well worth your time, and is one of the best movies Eastwood has ever made. I think that should be enough to label it highly recommended.
TheRalphRating (out of 4 *'s): * * * *