Yes, you would be correct in assuming that I should have written this column on Friday when I got back, or at the very latest, sometime last weekend. But since I'm so late with committing my thoughts on the Donald Trump rally in Richmond, VA to electronic paper, I figured I would do a more in-depth walkthrough of my day than I originally would have.
For instance, I didn't hear about the event until one of my Twitter associates, @RedStarWarrior, messaged me about it. He mentioned it because he had seen my exploits from February, when I last attended a Trump rally. By the way, in case you missed it, Mr. Trump is not too happy with The Washington Post and the rest of the mainstream media as of late…
#Trump campaign statement on Washington Post press ban. pic.twitter.com/BiOXFLsEHt

— Ethan Ralph (@TheRalphRetort) June 13, 2016
But while they're reporting problems with obtaining a credential, I am happy to report that I've never encountered such issues during my dealings with the campaign. In fact, I emailed their communications coordinator about getting credentialed early, since I didn't see the event listed on their site yet (because it was setup at short notice). She kindly let me know that I would still have to apply through the site, just like everyone else. Then she told me I would be notified when the event was added to the site. I wondered why she was so confident, but I soon found out why. I had been placed on the Trump campaign's media mailing list. That's where the above statement came from, actually.
I had zero problems in obtaining my press pass overall. I couldn't get into the venue until the media check-in at 4:45PM EST though, so I met up with @RedStarWarrior for some beers and food at the Capital Ale House in downtown Richmond.
Irish lunch pic.twitter.com/K5vVuCGmBI

— Ethan Ralph (@TheRalphRetort) June 10, 2016
After that, I waited outside in line with Red and others…
Live outside the #Trump rally pic.twitter.com/sn9FySgcrs

— Ethan Ralph (@TheRalphRetort) June 10, 2016
But instead of just standing there and talking shit like I was originally going to do, I decided to go out and talk to a couple protesters. One old man held a sign that called Trump a draft dodger and insulted his sons. He didn't say much to me. The reason he gave is that the police allegedly told him to keep moving or else he would be arrested. I'm not sure if that's accurate or not, but maybe it's because of the zone he was in. I have no idea.
One old man protesting across from the Richmond Coliseum. #Trump #Trump2016 pic.twitter.com/SmIEIKC3fQ

— Ethan Ralph (@TheRalphRetort) June 10, 2016
Oh, I almost left this button out. It was all I could do to keep from buying one…
Some of his wares pic.twitter.com/ttySaqdtGZ

— Ethan Ralph (@TheRalphRetort) June 10, 2016
I did talk to one other protester, an elderly lady by the name of Gayle. She was a sweet lady when it came down to anything other than the GOP or Donald Trump. I talked to her about my recent trip to England and some old film and radio programs. But when it came down to talk about politics, she was very fired-up, almost unhinged. Even though I didn't agree with most of her conclusions, she was cool to talk to and I respect any citizen out there doing their thing within the confines of the law.
Old protester named Gayle, handing out manifestos lol #Trump pic.twitter.com/Nad7jD1pWf

— Ethan Ralph (@TheRalphRetort) June 10, 2016
She was also passing out manifestos. They were interesting because she wrote the original by hand in impeccable penmanship then had copies made…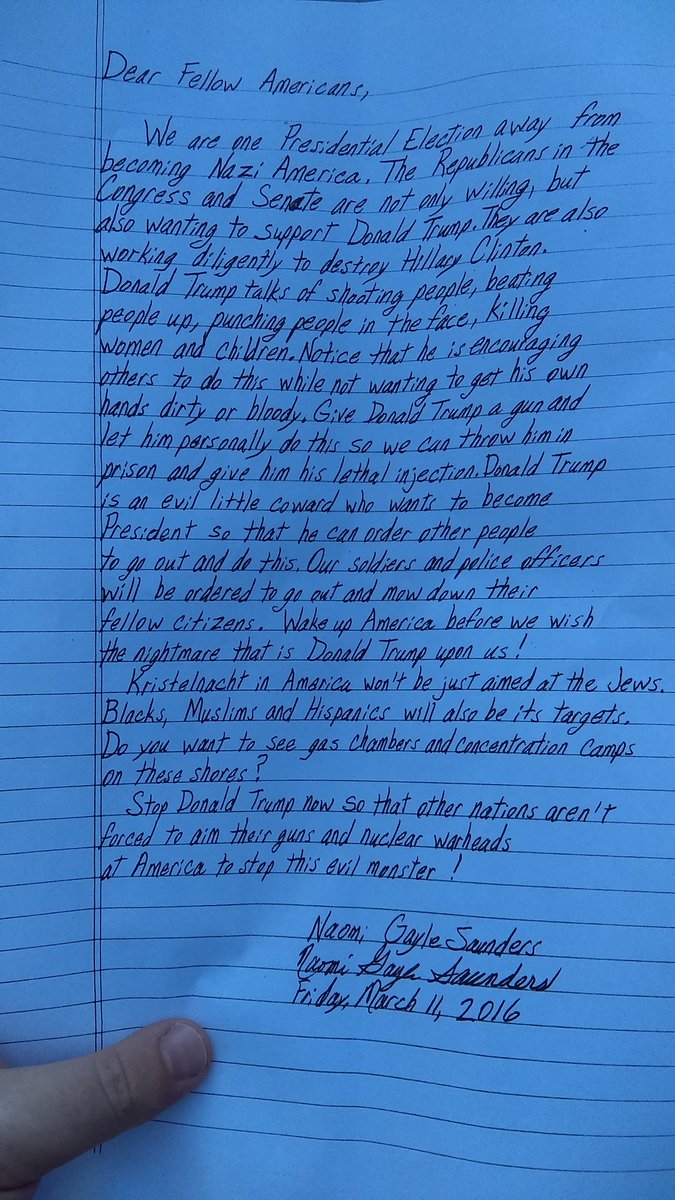 I also spotted some black supporters of Trump, which the media obviously doesn't focus on much…
>#Trump has no minority support pic.twitter.com/yoh5FrtvBT

— Ethan Ralph (@TheRalphRetort) June 10, 2016
As the time melted away and my booze buzz began to recede (I couldn't exactly get wasted before I went in lol), I got closer and closer to entry…
Almost in pic.twitter.com/zZoyUgUjWY

— Ethan Ralph (@TheRalphRetort) June 10, 2016
This was delayed for a bit because the Secret Service's bomb sniffing dog was running late for some fucking reason. I can't complain, though. Those guys do a hell of a job. Originally, I was going to do a live show from the press pen. I had to scrap these plans because of how loud the music was. It ended up being unfeasible. Speaking of the press area, I saw this laid out on the table when I walked in…
— Ethan Ralph (@TheRalphRetort) June 10, 2016
The crowd itself was a little smaller than I thought it would be. The rally I went to in February was packed and the atmosphere was a lot more tense. I counted no fewer than 7 separate interruptions of Mr. Trump's speech that day. This past Friday, there were zero. Still, the place wasn't empty at all. I estimated that there was around 3,000 people there, which isn't bad when you consider there was only one day's notice. Also, there were several graduations going on that night downtown, as well as a Tim McGraw concert (a traffic advisory was even issued). I'm willing to bet a lot of people decided not to go due to simple congestion problems.
All the warm-up speakers were fiery, but the lighting was bad from where I was first positioned. I did upload this prayer video anyway, because I thought the prose was especially amusing…
https://www.youtube.com/watch?v=fi9ETC5FmNo&feature=youtu.be
The other main takeaway from the pre-Trump guests was this line by Corey Stewart, who is running for governor of Virginia next year…
Corey Stewart says "no one more qualified for prison" than Hillary Clinton. Enormous "LOCK HER UP" chant starts after.

— Ethan Ralph (@TheRalphRetort) June 11, 2016
The crowd was really into that one. Of course when Trump came out, the lid blew off the place. During his speech, he seemed to be trying to dial things back a bit, although I wouldn't quite call it self-censorship. Maybe conscious moderation is a better way to put it. He didn't really leave any of his lines out, he was just more mellow when delivering them.
Now, since that night, he hasn't really dialed a damn thing back, so perhaps this was just the tone he adopted for the Richmond event.
Here's what I noted as the key lines from the speech…
Trump telling story about how Bobby Knight told him to run for president a year and a half ago.

"If you run, you'll win."

— Ethan Ralph (@TheRalphRetort) June 11, 2016
"Mexico, look what they're doing. They're killing us on the border. We're going to build the wall, it'd going to be a great Wall." – Trump

— Ethan Ralph (@TheRalphRetort) June 11, 2016
"For those of you who haven't been listening, who's gonna pay for this wall?"

Huge "MEXICO!" from the crowd.

— Ethan Ralph (@TheRalphRetort) June 11, 2016
"Bernie was right about one thing, trade. Our country is being taken advantage of." – @realDonaldTrump

— Ethan Ralph (@TheRalphRetort) June 11, 2016
Trump says Hillary doesn't want to go to jail, so she's going along with everything Obama wants…even though her and Bill both hate him.

— Ethan Ralph (@TheRalphRetort) June 11, 2016
There's a few more, but I think you get the idea. I also recorded a snippet from the speech myself…
https://www.youtube.com/watch?v=2tMY7akWl2o&feature=youtu.be
Someone also posted the full event, which I knew would be the case. I still wanted to grab some footage on my own, even so. Next time, I will focus more on interviewing people in the crowd as well as the previously mentioned protesters. Some video interviews with them would be good, in my opinion.
Hey, I'm still getting used to being on the scene and reporting things that way.
https://www.youtube.com/watch?v=xOnuESoyAdw
I did manage to grab a couple cool pictures, though (the ones on my second phone didn't turn out as well, unfortunately)…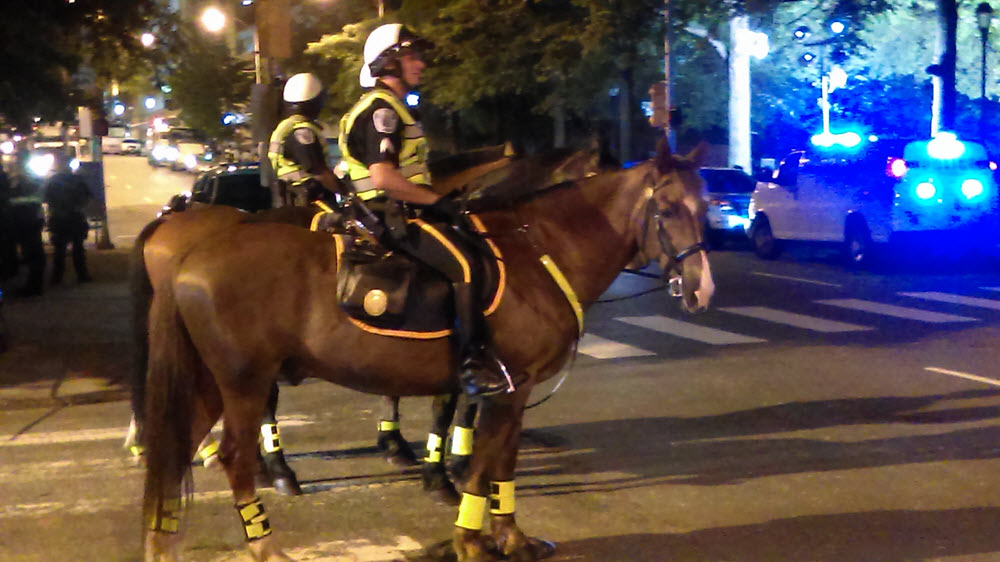 Those horses were there to keep thuggish protesters in line. Speaking of those clowns, some shenanigans did go down, but I was totally separated from it and wasn't allowed to go over there and start filming. To be honest, it looked pretty weak and I was ready to go home anyway. But when I got home I saw that things got a little more heated than I imagined at first.
I can promise you that next time I will get in the middle of all this shit regardless. I wasn't comfortable with raising hell and making the police let me over there since I was press, but the more of these events I get under my belt, the less that will be a problem. It was mostly just a bunch of goofs who were disorganized and pathetic, though. Thankfully, we didn't have a repeat of San Jose on our hands.
All in all, it was a fun time and it does me good to get out and cover these kind of events live. I'm going to try to go to every Trump rally that's within 100 miles or so of Richmond, so I think I will have several more opportunities to bring you some quality reporting. Believe it or not, I'm also going to apply for credentials to a Hillary Clinton event whenever she comes around. I don't actually think they will give me one, but I might as well try. And if they don't, I can write a story about their refusal instead. A true win-win.
Thank you all for supporting me by reading, donating, sharing the stories, and just being around for me to bounce my writing off of. I will be unveiling a new Patreon scheme with some actual rewards sometime this week, so check that out if interested.
Also, I did a short stream after the event, which may be of interest to some of you.
https://www.youtube.com/watch?v=aWB4_yf2QdM