There's a new development in the aftermath of the Leslie Jones meltdown. One of the first people to be banned, even before Milo, was a 17-year-old high school girl with a deep passion for politics.
She tried to appeal the suspension but it got denied almost instantly.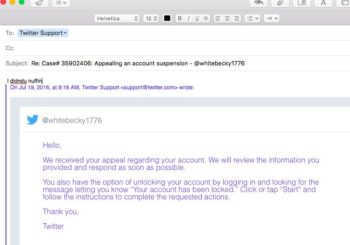 Who is @whitebecky1776? Some kind of internet troll? Some white supremacist? Some criminal? Some professional harasser?
Well, let's meet Kaitlyn.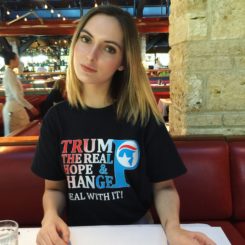 Kaitlyn is a young female high schooler currently doing online school with a huge devotion to the political game. She also has a very quirky sense of humor and her tweets are mainly comprised of troll jokes or serious political/social discussions.
She had her account since December 2013, wtih an average of 1000 tweets a year and only 785 followers.
What did this young girl do that was so terrible?
She sent a few tweets to Leslie Jones mentioning Harambe the Gorilla: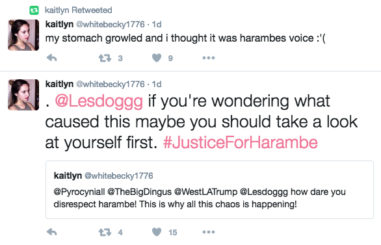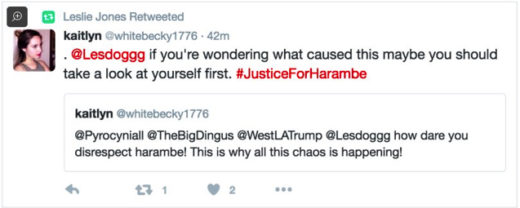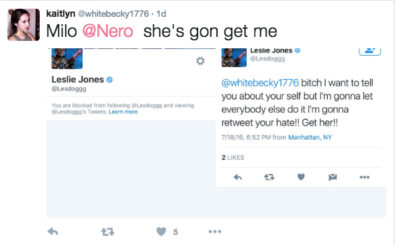 Wait, what's that last tweet about? Who's gonna get who?
Get her!! Get her?? What could that mean? How could that be interpreted?
Could she want a mob of her followers and readers to report that person en masse?
That would sound plausible since that girl got banned even before Milo.

That would be called targeted harassment and it is against the Twitter terms of service, Miss Jones.
If you want to find out more about her whole story and who she is, watch my interview with her recorded LIVE on Wednesday July 20th, 2016 at 5pm PST / 8pm EST.
https://www.youtube.com/watch?v=t3Oh0UnMfCE
Feminist Flow's YT channel: https://www.youtube.com/channel/UCi4DFGtF_oZcQwUM2Je8jxg
Feminist Flow on Twitter: https://twitter.com/FeministPeriod