No one really knows what's going on with the rumored sale of Twitter. In fact, I'm now starting to wonder if it's even going to get sold at all, given all the names that have dropped out the last day or so. Disney is done, Apple said no, Alphabet/Google is taking a pass…even Salesforce.com, by far the junior member of that grouping, is now uncertain to make a bid. Verizon and Microsoft are still believed to be interested, but who knows. That could just be more banker bullshit.
Twitter's stock declined more than 18 percent in early Thursday trading after reports that Walt Disney and Google won't submit bids for the social media company.

Disney, which reportedly considered a possible Twitter bid, has decided not to pursue the company, Recode had reported after the stock market close on Wednesday, citing sources familiar with the situation.

It also reported that Google, which some Wall Street observers had called a logical buyer for Twitter and which reportedly had also explored a play for the firm, was also not going to bid. The report also added that fellow technology giant Apple was also unlikely to make an offer.

That for now seems to leave cloud computing firm Salesforce.com as the only potential suitor of Twitter, even though the company has never publicly confirmed its interest in a deal. Salesforce CEO Marc Benioff appeared on CNBC on Wednesday and declined to comment directly on the firm's interest in Twitter.

Other potential suitors that some observers have mentioned include Microsoft and Verizon.

Twitter shares had dropped 9 percent in after-hours trading Wednesday after closing the day 5.7 percent higher. Over the past year, Twitter's stock has traded between $13.73 and $31.87. As of 10:45 a.m. ET, the stock was trading at $20.31, down 18.3 percent.
It's down even further now and it might end up even lower before trading closes for the day. I'll update this post in a few hours with more info…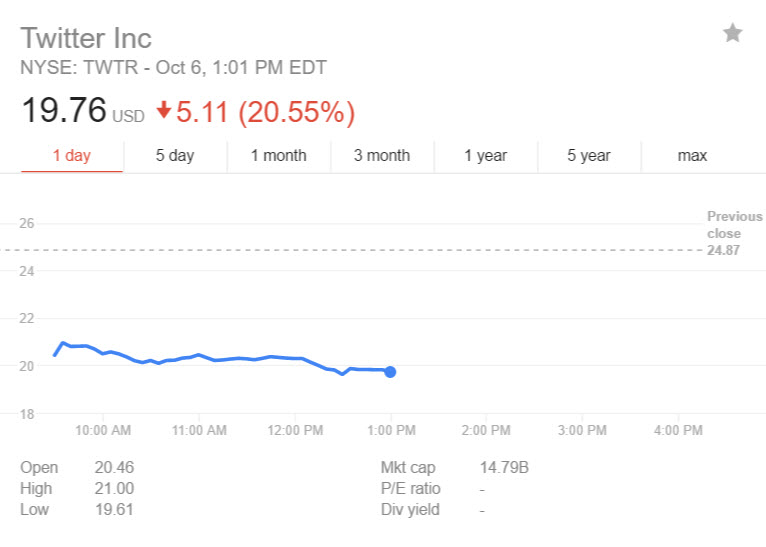 UPDATE: More from MarketWatch…
With Disney and Google reportedly out of the bidding process, James Cakmak, an analyst with Monness, Crespi, Hardt, is unsure that Salesforce acquisition makes sense or if the company could even afford Twitter.

"If Salesforce is that last potential bidder, Twitter may be destined to remain independent until a more reasonable valuation is available," Cakmak wrote.

Cakmak said he believes Twitter will be looking for an all-cash deal and he doesn't believe Salesforce has that cash. Salesforce had $1.1 billion in cash and cash equivalents as of July 31.

With $17 billion in revenue, Cakmak said he believes the Twitter acquisition price would be $50 per monthly active user or $110 per daily active user.

If there were multiple bidders, Cakmak said there could have been a possible $20 billion acquisition price. But with big suitors reportedly dropping out, he sees more downside risk to the valuation.

Salesforce could use Twitter as a data asset if it integrates it with its marketing cloud, but Cakmak said he doesn't believe that would be the most helpful solution for Salesforce.