Good morning, everyone! Before I go off to the grocery store, I figured I ought to write something on my own site. I know, revolutionary. It just so happens that a very juicy topic presented itself overnight, though. Twitter just cannot seem to buy a clue as of late, as the stock sank to another all-time low yesterday. You know what would be a great way for them to dig out of their huge hole, though? Getting into official business with Anita Sarkeesian! I wonder just how many victim-bucks she was able to extract out of this latest deal?
Getting into the metaphorical bed with Anita sounds like a really dumb idea, doesn't it? Well, to sane people like me and you it sounds idiotic. But to ideologues like Jack Dorsey and the SJW fruitcakes at Twitter headquarters, it must seem like a grand plan. Here's the press release announcing the new moves. It's one of the most Orwellian things I've read in a very long time…
On Twitter, every voice has the power to shape the world. We see this power every day, from activists who use Twitter to mobilize citizens to content creators who use Twitter to shape opinion.

To ensure people can continue to express themselves freely and safely on Twitter, we must provide more tools and policies. With hundreds of millions of Tweets sent per day, the volume of content on Twitter is massive, which makes it extraordinarily complex to strike the right balance between fighting abuse and speaking truth to power. It requires a multi-layered approach where each of our 320 million users has a part to play, as do the community of experts working for safety and free expression.

That's why we are announcing the formation of the Twitter Trust & Safety Council, a new and foundational part of our strategy to ensure that people feel safe expressing themselves on Twitter.

As we develop products, policies, and programs, our Trust & Safety Council will help us tap into the expertise and input of organizations at the intersection of these issues more efficiently and quickly.
The "Trust and Safety Council."

Could Twitter possibly come up with a more Orwellian name for Anita's thought police committee?

— Ethan Ralph (@TheRalphRetort) February 9, 2016
I suspected something like this was coming, after seeing the recent moves the company has made. Still, it's disheartening that they've went full thought police when it comes to the new initiative. Also, notice how they keep things sort of vague, which is one thing that's beginning to become a major problem in their rules enforcement regime. My cat's account (and my subreddit's account) was banned without explanation and the appeal was ignored. I know of many others with the "wrong" sort of political views who have been bounced off the service without proper procedure being followed. Expect to see that sort of thing increase now that Twitter is officially in business with Anita Sarkeesian.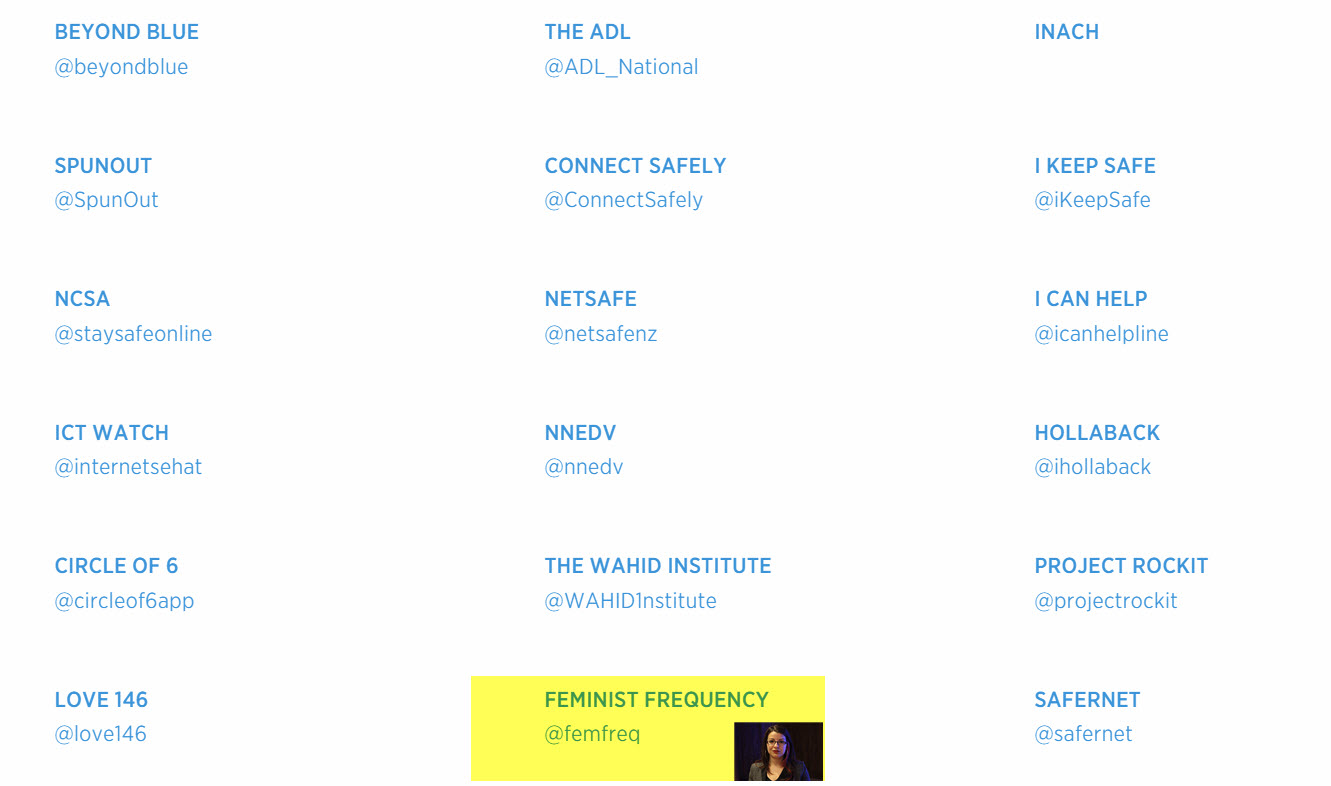 There's a lot of talk about how people should "feel safe" and be free from people who want to "harass." The thing is, we've all seen what constitutes harassment in the eyes of people like Ms. Sarkeesian. In the words of the one and only Milo Yiannopoulos…
According to feminist culture critic Anita Sarkeesian, who spoke at the event, online "harassment" doesn't simply consist of what is "legal and illegal," but "also the day-to-day grind of 'you're a liar' and 'you suck,' including all of these hate videos that attack us on a regular basis."

Unable to prove that they are the victims of a wave of "misogynistic hate" – no bomb threat against a feminist critic of video games has ever been deemed credible and there are serious doubts about threats supposedly levelled at transsexual activist Brianna Wu – feminists are trying to redefine violence and harassment to include disobliging tweets and criticisms of their work.

In other words: someone said "you suck" to Anita Sarkeesian and now we have to censor the internet. Who could have predicted such a thing? It's worth noting, by the way, that if Sarkeesian's definition is correct, Donald Trump is the world's greatest victim of "cyber-violence." Someone should let him know.
Twitter has now put this woman in a position of power. Just when I thought the leaders of this decaying social network giant couldn't possibly stick their heads any further up their own asses, they prove me wrong.