Hello again everyone. It's been another wild day today. The same trolls who were exposed last night are spreading more lies today. It's not worth the time or effort to get into. BUT, I do have an interesting add on to my story from the other day. After it ran, Jay Sherman of Reaxxion reached out to me again. He had forgotten to give me one important piece of the puzzle. This one deals directly with the Gamasutra editors and possible ethical concerns.In case you forgot the story from the other day, here's an excerpt:
UBM has all kinds of ingenious ways to get paid. A certain part of me has to respect the hustle, but the other part of me is appalled at just how much is for sale. It all comes back to the GDC of course, where they get together and shit on gamers, apparently. At least that's what they did this year. Take all this info for what you will, but to me, it shows an outlet willing to make a buck at any cost. Integrity doesn't seem to come into the equation. I know they have to make money, but this is unseemly, in my opinion.
Here's the new screenshot that I have. It outlines a sponsorship that's available for the Game Developer's Conference. If you pay $20,000 you get to have lunch with Gamasutra editors and some of their associates. You also get to do a little presentation for them as well. This in and of itself might not be unethical, but paying for access rarely ends well. One only has to look to the U.S. political scene to see how that turns out. Sherman also said that they were trying to keep this off the books for 2016, but I have no way to verify that: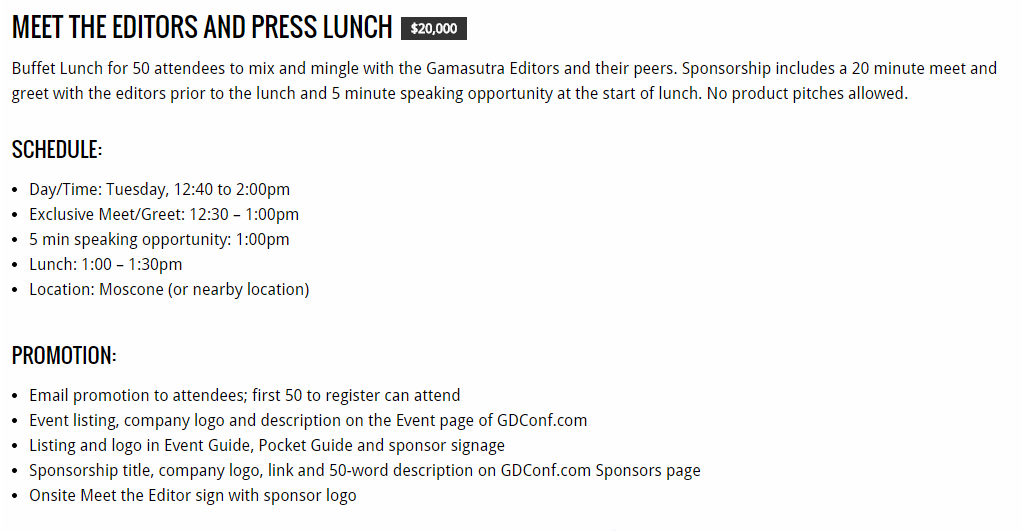 Like I said, I'm sure they have all the excuses in the world, but this is just more of the same bad look that I talked about previously. Lemme know what you think below. I'm about to go work up a recap of all the crazed shenanigans that took place with Brianna Wu this evening, and I may have another post before the morning as well.