Reports are coming about Obsidian bowing to SJW pressure and changed a memorial in their game, Pillars of Eternity (PoE). I don't own it (although many people in our community do), so I can't go and check this out for myself. But I think it's pretty solid by now. If you'll recall, this is what the frauds on the other side used this past Sunday in their ongoing smear campaign against TotalBiscuit. Since he questioned the wisdom of letting reactionaries like the anti-gamer faction have things they didn't like altered, he was smeared as transphobic.
Here's the original joke, along with the breaking news today about Obsidian caving to pressure:
Looks like @Obsidian decided to remove Firedorn's memorial without noting in the patch notes. I'm a bit disappointed pic.twitter.com/L1IoUinLae

— Futaba Best Girl (@FutabaIsWaifu) April 3, 2015
(It looks like it wasn't removed, but was instead changed to a joke reflecting the controversy)
Looks like it happened today with the 1.3 patch:
https://twitter.com/DaveOshry/status/584085782597611520
Pillars of Eternity – large bugfixing-patch 1.03 released: submitted by theoryofjustice [link] [14 comments] http://t.co/rLc0ZQfT9T

— Reddit Games Feed (@yosp_s4) April 3, 2015
http://t.co/ieHJ79ybyN #GamerGate [UNVERIFIED] It's On – Obsidian Removes Backer Made Limerick in Pillars of Eternity in Latest Patch Wit…

— KotakuInAction (@KotakuInAction) April 3, 2015
The decision is being met with the proper scorn, I am happy to report. I can't imagine who thought it was a good idea to cave like this. I've already seen some of the anti's talking about how "it's only some backer's text" that they took out. Yes, that's true. But this is still censorship. Not only that, it sets a terrible precedent for the future. What are they going to erase next?
Here's some quick reaction:
https://twitter.com/infamousglasses/status/584074829503954944

https://twitter.com/NinthEchelon/status/584075009649483776
(It appears the backer agreed to change it, as noted above)
@ExcaliburLost @_WCS_ Sad to say, but I'll be boycotting all @Obsidian games from now on.They were my favorite dev before they became cucks.

— Thrak (@KKMM612) April 3, 2015
https://twitter.com/ItalyGG/status/584075451439706112
https://twitter.com/SwiftOnEconomy/status/584075533622841344
@ExcaliburLost @Obsidian Why not just let the easily offended loons oversee the whole dev process next time? Bloody Cowards.. #GamerGate

— Septivium (@TheSeptivium) April 3, 2015
@ExcaliburLost @Obsidian You just lost a whole bunch of faithful customers. Hope it was worth it.

— Ari Hautala (@arihautala) April 3, 2015
what's the hashtag for Obsidian's terible decision?

— Ethan Ralph (@TheRalphRetort) April 3, 2015
https://twitter.com/DoxitheDutchman/status/584087720567398400
Each person can decide how to react to this on their own. No one needs my guidance (lol). But caving to these radicals is a terrible decision that I'm almost certain will haunt us in the future. So Obsidian deserves whatever punishment the consumer decides to give them. They fucked up, in my opinion.
UPDATE: Obsidian has finally responded…(h/t @atlasnodded)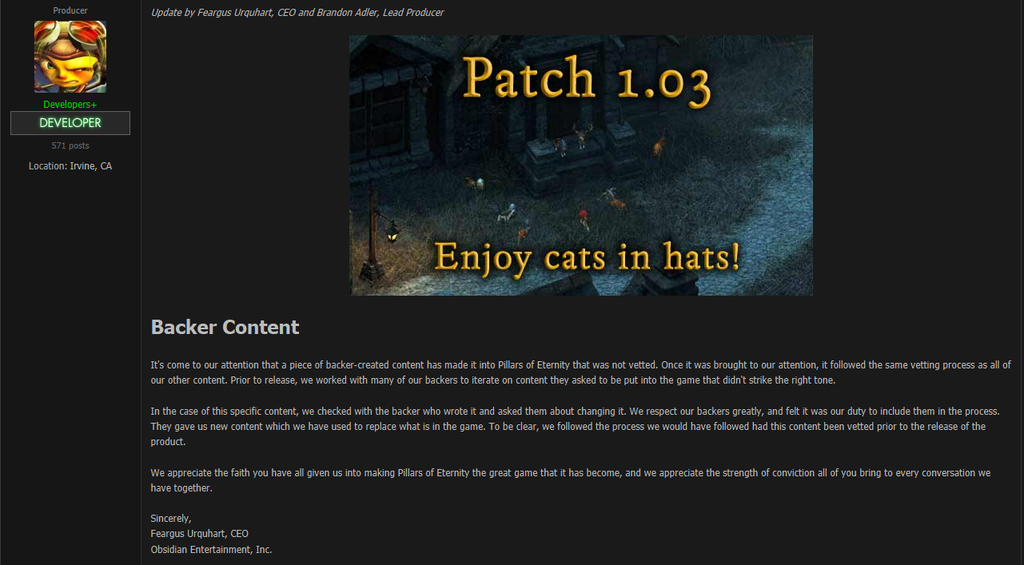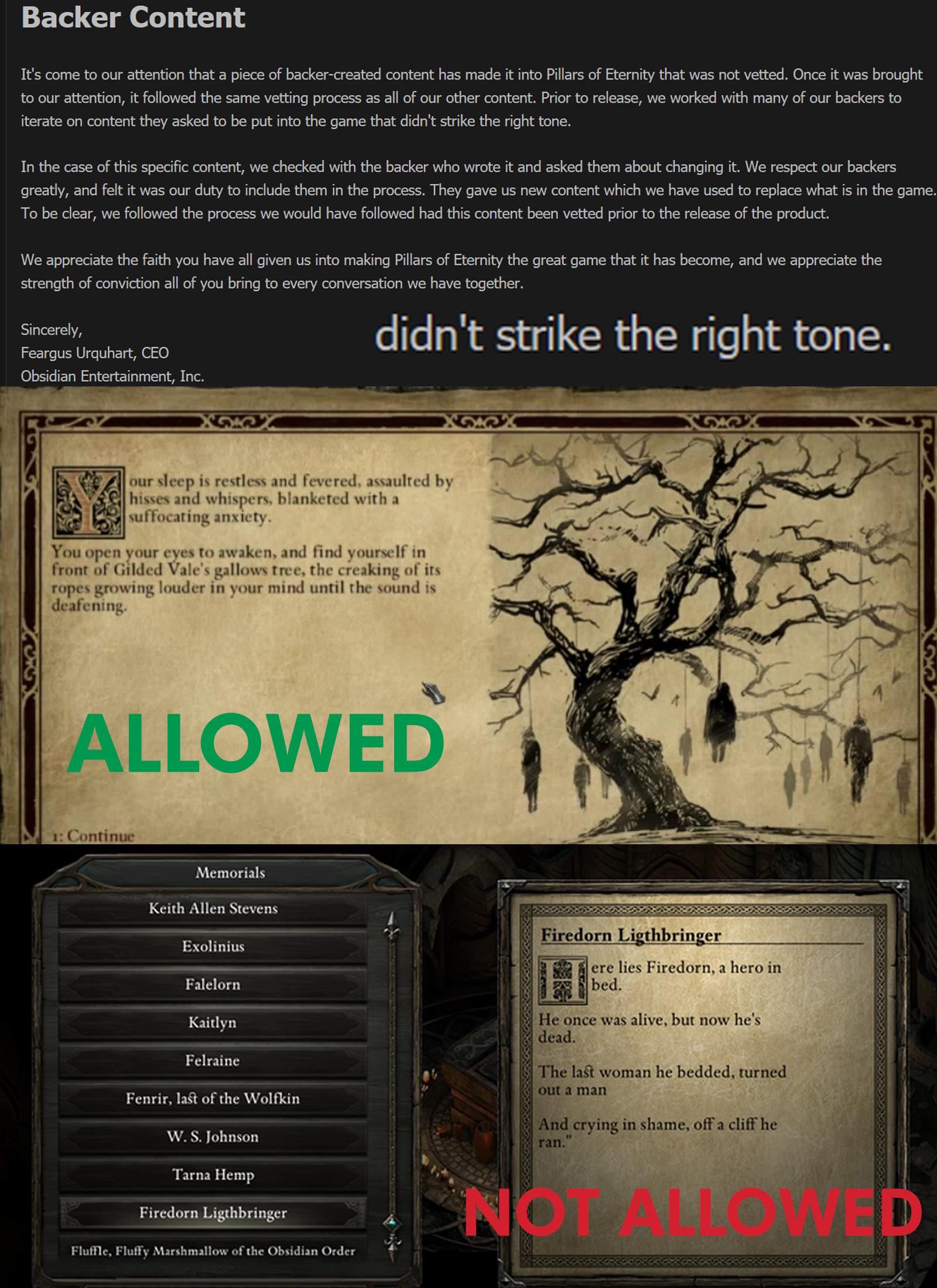 UPDATE II: SJW outlets like The Mary Sue are giddy over this development…
https://twitter.com/atlasnodded/status/584133986580041728
And the original backer has commented. While I don't agree with the decision to change it, I still respect his opinion:
https://twitter.com/atlasnodded/status/584183246117810177