OK, I'm back from my trip to the store. I have the extra PS4 Wave Blue controller, and I have seen this week's Arrow. But while I was away, our old friend Peter Coffin got caught up in some more sockpuppet shenanigans. If you'll recall, he's famous for this sort of fakery. Apparently, sockpuppetry is a harder vice to give up than I ever considered. Let' get down to the brass tacks, as they say. Peter had some interaction earlier with some members of the GamerGate community. Out of nowhere, some middle-aged lady came up to defend Coffin. Naturally, some people thought this was strange, so they did a little digging. Hilarity ensued. I'm just gonna post all this shit in a row, cause it's easier to digest that way:
This is where it gets truly classic. I know this is a super long wall of tweets, but it is what it is lol: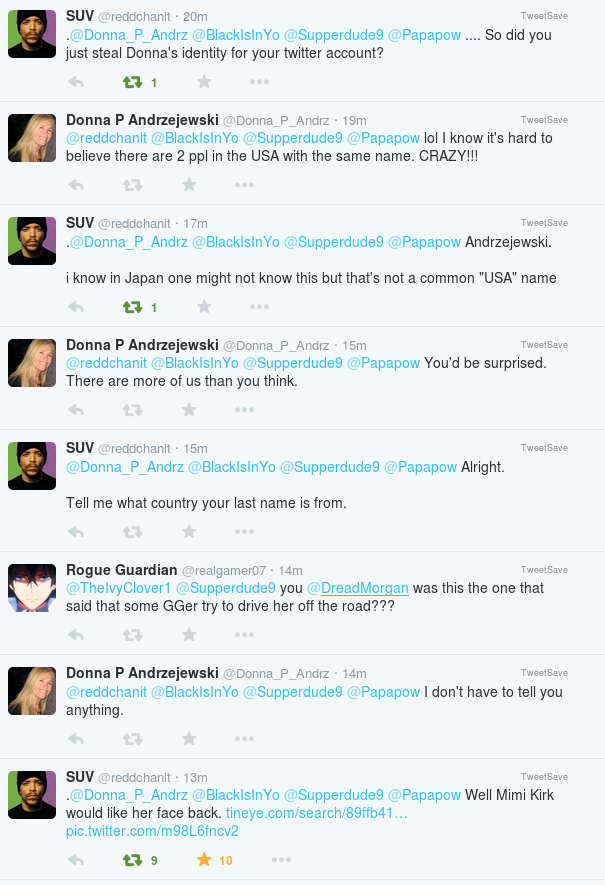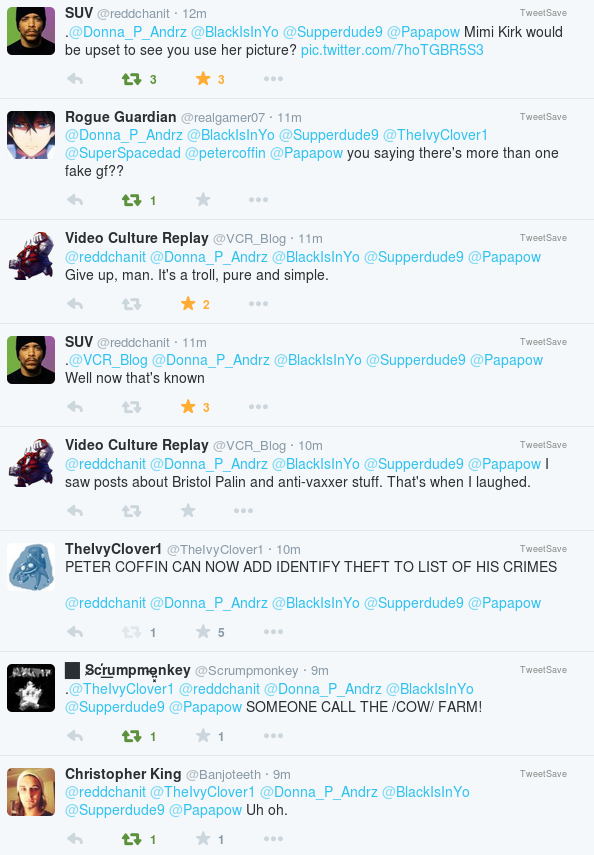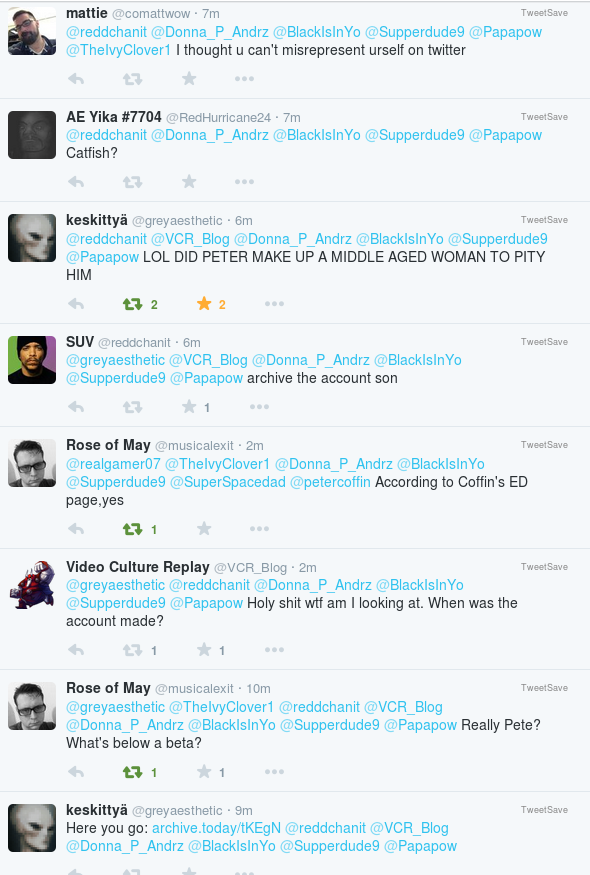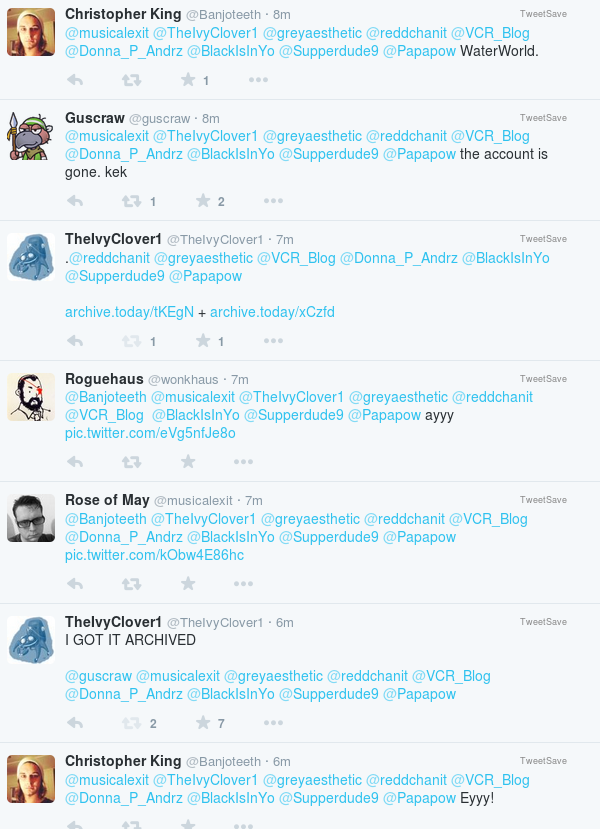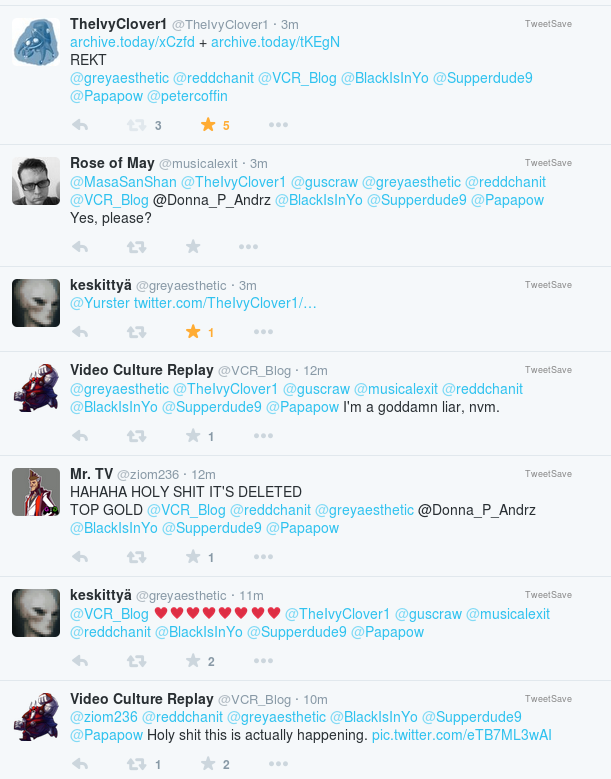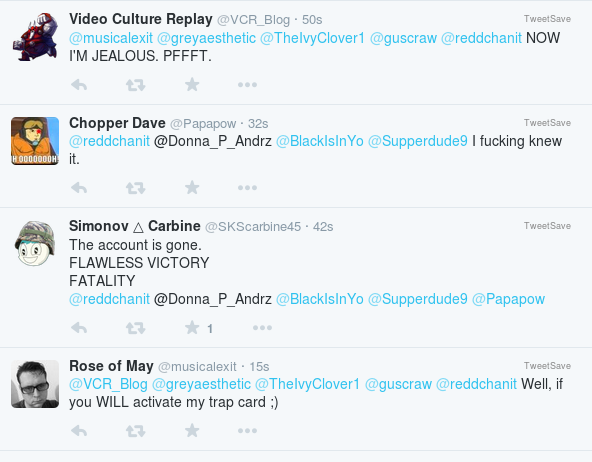 The whole account is just this person (presumably Peter Coffin) pimping Coffin's GoFundMe and some of his shity "comedy" videos. They also mixed in some snarky comments about reality television. It's not even a quality fake. Jesus, Peter, at least take some pride in your work. This is embarrassing.
What made the original tweeter curious about all this?
Alright, so here's the back story: I was tired of seeing Peter coffin pimping his GoFundMe for a jaw surgery on a RealDoll. So I tweeted and asked him if he had a concious and he didn't really reply but this middle aged woman did. We argued back and forth, with me asking him to post the uncropped version of the pic on his GoFundMe. That was yesterday. I was just going to let it rest, UNTIL, space dad decided to jump in and act like an asshole and tweet something snarky. So I hopped back into the argument, and out of curiosity checked her TL. Every 2nd or 3rd tweet was her pimping the GoFundMe link for Peter. I did just a quick Google search of her name, city, state since they were in her Twitter profile. No results for anything. No Facebook, no LinkedIn, not even Spokeo. So I grew suspicious. Someone posted a honeypot and grabbed an IP from the woman. It came up outside Chicago. Then that same someone did a reverse image search on her avatar and it came back with a completely different name. As soon as those results were posted, Peter nuked the account. If it hadn't been for space dad making that snarky fucking comment, Peter would have gotten away with it.
Just another day for Peter Coffin. By the way, thanks Super SpaceDad, ya little bitch. You helped us show what a fraud he is. Maybe if he started speaking more honestly, we could take him seriously. As it is, he's just a clown playing a role. And he's a idiot with terrible faking skills. There's also that.

Special thanks to:@TheIvyClover1 , @reddchanit & @Papapow. I should be back with some more stuff before morning.