I saw the news about Obama's latest odious move last night around 12am. You might be asking yourselves this question:
Ralph, what took you so long to write this post, you lazy son of a bitch? 
And I have to agree, it's a fair query. Multiple factors contributed to the delay. For one, my short attention span came into play more than once. I also got sidetracked by planning that needed to be done for my trip to London, which is thankfully coming up very, very soon. I had some other things come up as well, but they are more mundane (Twitter). As you can see, I've also gotten off into the weeds with this introduction. So, let's get to the meat and potatoes, as they say.
Here's a recap of what Obama is doing today, courtesy of The New York Times…
The Obama administration is planning to issue a sweeping directive telling every public school district in the country to allow transgender students to use the bathrooms that match their gender identity.

A letter to school districts will go out Friday, adding to a highly charged debate over transgender rights in the middle of the administration's legal fight with North Carolina over the issue. The declaration — signed by Justice and Education department officials — will describe what schools should do to ensure that none of their students are discriminated against…

"A school may not require transgender students to use facilities inconsistent with their gender identity or to use individual-user facilities when other students are not required to do so," according to the letter, a copy of which was provided to The New York Times.

A school's obligation under federal law "to ensure nondiscrimination on the basis of sex requires schools to provide transgender students equal access to educational programs and activities even in circumstances in which other students, parents, or community members raise objections or concerns," the letter states. "As is consistently recognized in civil rights cases, the desire to accommodate others' discomfort cannot justify a policy that singles out and disadvantages a particular class of students."

As soon as a child's parent or legal guardian asserts a gender identity for the student that "differs from previous representations or records," the letter says, the child is to be treated accordingly — without any requirement for a medical diagnosis or birth certificate to be produced. It says that schools may — but are not required to — provide other restroom and locker room options to students who seek "additional privacy" for whatever reason.
Longtime readers of this site will likely remember that I've taken issue with some recent behavior from the Times. Still, even though they do prop-up some idiotic SJW bullshit from time to time, it's hard to argue that they are one of the best newspapers in the country (which may not mean much nowadays, admittedly). They're also one of the most "progressive," though, and so is their readership. You would think that the crowd would be standing up to cheer this supposed breakthrough for civil rights, correct?
Incorrect.
In fact, they panned the move…by a wide margin.
That last commenter thinks Obama must be on a mission to sink Hillary Clinton! I don't think it goes that deep, but I must say, I doubt Hillary was pleased when she saw this news late last night. In fact, it's probably safe to say she broke a few items and/or got into somebody's ass with an expletive-laden rant.
I found some more later.
Also, I had no idea about this one (from another article). Apparently the person who started all this bathroom madness up in the first place has quite a colorful past…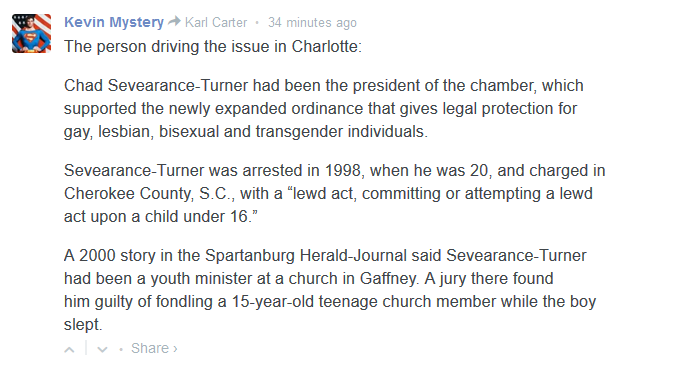 I know you all are just as shocked as I am by that development.
Expect to see a lot more of this next screenshot in the future, by the way. Moms everywhere are livid over the Obama administration's decision here…
Oh, and teachers too…

This may end up being one of the worst mistakes Obama has ever made. Someone is leading a War on Women, but it isn't Donald Trump.