My Twitter account is locked until 2:38PM EST, so maybe I will actually get some work done. First thing's first, though. I need to talk about a few things that have happened over the last couple days. Many of you were upset with WildGoose's post about the recent "gravestanding" that some people indulged in. To be quite honest, I understand that feeling. I wouldn't have written something like that myself, although I agree that using a death to prop yourself up as some moralistic character is pretty distasteful. I think there are ways to talk about things like this, and ways not to. CultOfVivian and Liana K fell short, while someone like Oliver Campbell seemed to do a lot better. I can go ahead an let you know that Goose is going to publish something later on that contradicts what I just said. I imagine he will be taking aim at many more people than I would. I'm still going to run it. Why? Let me explain it to you.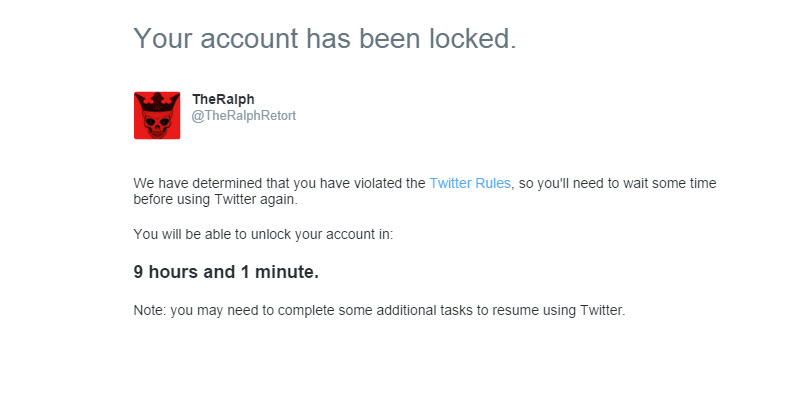 https://twitter.com/CultOfVivian/status/687906759604740096
First off, no one has ever been paid to write on this site except me. I don't have enough overhead to start paying people. Therefore, the idea that someone should be "fired" is kinda fucking stupid. The people who write on this site do it as a favor for me and as a way to get their name out there more. Even though I used the term "editorial staff" the other day, no one helps me with that sort of thing. I control the content here. Since I favor unfettered free speech, if one of my contributors writes a post, I will most likely run it, no matter what it says. There are limits, such as content that runs afoul of AdSense violations, but other than that, just about anything goes. I knew the WildGoose post would ruffle feathers, but the amount of hate I have received is nonetheless staggering. I'm used to it by now, so it doesn't really bother me that much, but the sheer volume of it is rather amazing.
Some of you may not realize this, but this site exists to push buttons, even among the regular readers. That's my role: triggering people. Some of you have asked me why I let avowed trolls write for me. The simple answer is, they've proven to be more honest about what they're all about than the people on the GamerGatePlus side of things. I've seen so much hypocrisy from my enemies and critics over the last year, that I couldn't even begin to describe it in one article. I no longer care about pissing these sorts of people off. In fact, it gives me great pleasure. 
The same goons who criticize me are also the same exact people who spread my mugshot. They're the people who put out all sorts of lies about both myself and this site (and my friends). It's still happening as we speak. TheRalphRetort.com has been labeled as opinion from the start. I've never claimed to be a journalist and I am most certainly not neutral. When I say I am the Editor-In-Chief, I mean of this site. I make no claims that it is a journalistic endeavor. I bring you news and drama with my spin on those events included. I respond to my enemies here in print, sometimes viciously. None of that will ever change.
If something that's run here makes you uncomfortable, that's fine. Ignore it, or if it bothers you too much, stop reading the site. I understand that completely. One thing that won't happen, though, is me being bullied into apologies or disassociations. That's one thing that has these fuckers so pissed. They're used to people bowing down and asking for forgiveness. I have apologized in the past, when I felt it was warranted. I may do so again, if the situation calls for it. However, hypocritical moral scolds will never hold any sway over me, and while I respect every single one of you who read the site, at the end of the day, I decide what gets posted.

I thank all of you for reading, as I always have. The comment section will remain lightly moderated. The only things that get deleted are AdSense violations, such as nudity or calls for violence. Other than that, have at it. You can also email me at [email protected] if you wish to discuss these things further. WildGoose will be writing something else today, as I mentioned. So I'm preparing you now. Just because I post it, doesn't mean I agree with every word (or any of it, for that matter). In fact, I've posted things from enemies before. I will continue to do so. If my editorial attitude is a problem for you, TheRalphRetort.com might not be a place you want to frequent.
I appreciate your time.
Ethan Ralph (aka TheRalph)
Owner/Editor-In-Chief of TheRalphRetort.com