I've been sitting here all night working on a little post about our old friend Brianna Wu. As you can tell by the title, it looks like Wu has been lying for years about the college degree that he she claims to have. The reason I say looks like, is to cover all my bases, but I don't think Wu is telling the truth, given the evidence I'm about to show you. The records department at the University of Mississippi has been pretty clear. No person has a degree under Brianna Wu, or the old name of John Walker Flynt that she used to go by. Obviously, this throws any claim she's ever made even further into doubt. If Wu will lie about this, what else will she lie about? There may be some reason it's not showing up, but we'll have to wait and see if Wu produces the needed evidence. Given how many times Brianna has lied over the past year, I'd have to say the burden of proof is now on her and not us.
In order to make things a bit more solid, I went out and gathered some evidence of my own, with the help of my team. A special viewer was the one to give me this screen from Wu's LinkedIn:

Then, we have Wu's Wikipedia page and Entrepreneur Wiki page…
Here's a screen from an October 2014 report in the Boston Globe…
And from Wu's own Twitter (I'm sure there's even more there, I'm just a bit short on time):
Not only that, here's an audio clip from The New Disruptors, also from October 2014 (and hosted by the fraudulent Glenn Fleishman):
https://www.youtube.com/watch?v=HrIjDz7IC5s&feature=youtu.be
But when you ask the University of Mississippi what's up with Wu (or John Walker Flynt), they will tell you that no such degree was issued: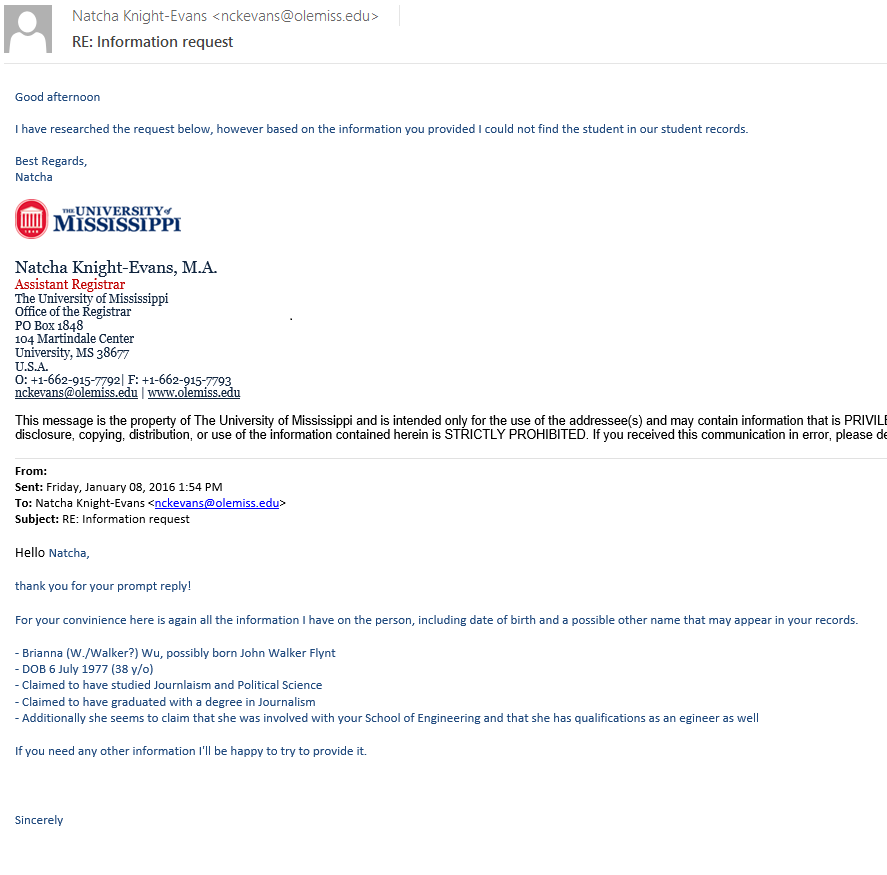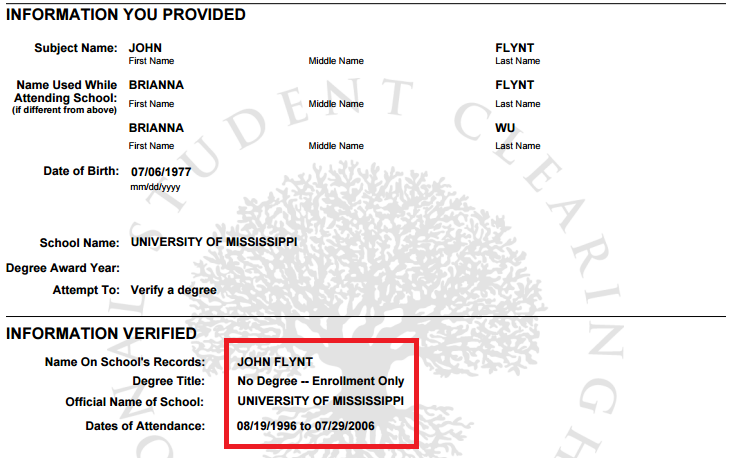 I don't know what kind of excuse Brianna will have for this, but it seems like the degree story was a complete fabrication. That's nothing new, if you read these pages. Wu has been lying about me and others for well over a year now. Still, if you're mendacious about something as basic as your degree history, then you are a complete phony. How many other parts of Wu's past are fraudulent? I can bet you that there's an awful lot. Therefore, I encourage you all to keep digging…just as I will do. If Wu proves that she has a degree, I'll of course update you here.