If you've been following GamerGate for any real length of time, you know that 8chan is a real thorn in the side of SJWs. They naturally hate it, because it's totally anon. But they also have a special hatred of the owner, Fredrick Brennan (Hotwheels). I can understand that, to be honest. Every time he comes on the scene, he destroys them. Brianna Wu was laid to waste. Arthur Chu was utterly destroyed. The only thing that keeps the list from growing longer, is the fact that some of them bigger named ones, are smart enough not to show up to debate him. But avoidance isn't their only strategy. They want to totally silence the man by taking away his Patreon income…three days before Christmas.
The story took another turn when Hotwheels repurposed his Patreon into a page to fund weekly YouTube videos of is cat, Hachi. I've seen stuff like this on the service before, and it falls within their new guidelines. So, I don't see a problem with it. Here's Hotwheels to explain the venture in more detail:
.@srhbutts As long as @infinitechan delivers on those cat videos it seems legit. Videos are expensive, look at Tropes vs Women! #GamerGate

— Chanmonlee (@_Chanmonlee_) December 22, 2014
I think I'm going to have to support this myself. I do enjoy a good cat video. While I was busy laughing about this, I got a DM with a link to a thread on (you guessed it) 8chan. If the screenshots there are legit, then Zoe Quinn had a direct hand in trying to shut down the Patreon Brennan had set up for 8chan. These are from the GhamerGhazi IRC room, and I can confirm that the names are from people who frequent the room, Zoe Quinn included. She's actually a mod on the channel. I know, because I went in there a couple times for laughs.
Lol, I'm not high enough for this Ghazi IRC. The delusion is staggering. #GamerGate pic.twitter.com/8qmsI97rDA

— Ethan Ralph (@TheRalphRetort) November 24, 2014
I put out a couple more tweets like that around that time, but you get the picture. I've been there before. Here's the Zoe Quinn screens that leaked this AM. Kudos to the anon who got them, by the way: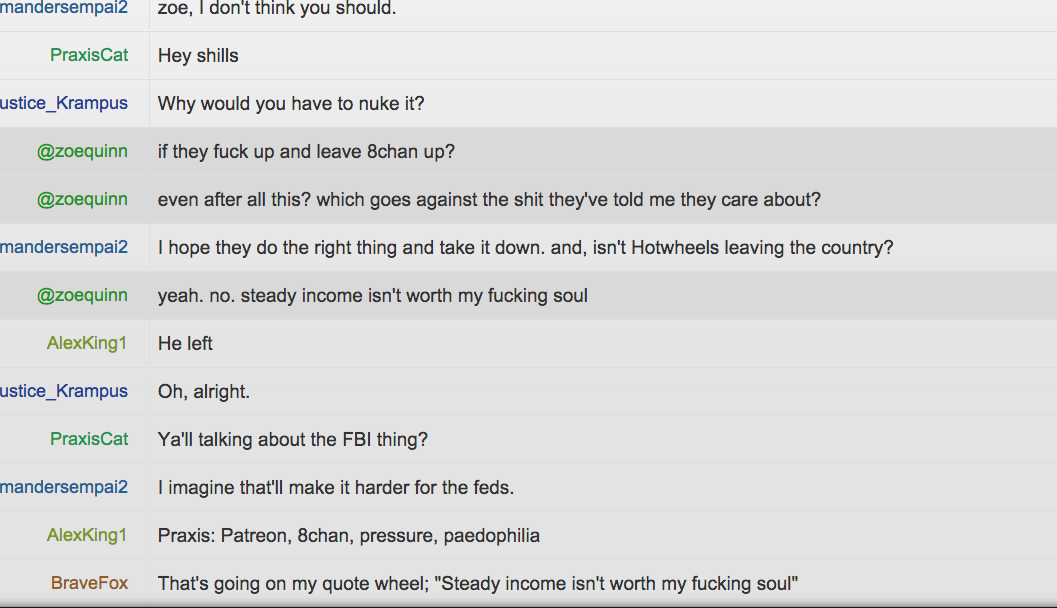 So, not only does it look like Zoe had a direct hand in trying to take down Hotwheels, but she's also going after the guys behind The Sarkeesian Effect. She talks about having had meetings with Patreon over this issue for weeks. She publicly threatened to leave the service if they didn't kick Brennan off, so I guess now she's painted herself into a corner. To get out of it, It sounds like she got together with Patreon, and tried to craft a Terms of Service that writes out 8chan and others, while still leaving their buddies in.This is exactly the type of collusion that has helped fuel GamerGate from the start. As we know, silencing tactics are nothing new for Zoe Quinn. At least she isn't using the courts this time. I guess that's an improvement, for her.
Hilariously, the rainbow-headed bimbo appears to have fallen short again. That's only for now, of course. I'm sure she'll bully Patreon into doing what she wants them to do, eventually. As we saw with Stephen Totilo, you don't get away with standing up to that succubus for long, if you're in the SJW crowd. It will still be a victory for GamerGate, though, because it exposes Patreon and Quinn for the hypocrites that they are. It also reminds us that the other side hates free speech. That's terrain that we should relish fighting on.
UPDATE: I will be on a stream tomorrow morning at 11 AM EST with Hotwheels to discuss the recent wave of censorship attempts by our opponents.
https://www.youtube.com/watch?v=ACihT9HILFA